Home > Arts and Crafts Projects > Mobile Crafts >How to Make Bird Mobiles
HOW TO MAKE BIRD MOBILES with WOOD DOWELS & THREAD : Making Mobile Crafts for Kids & Teens
Mobiles aren't just for babies...although babies sure do love them. Mobiles are tricky to make sometime as you have to find the perfect balance between the dowels, thread, and objects. The natural movement and balance that comes about with a mobile is beautiful to look at and fun to make. Below you will find out how to make a dowel and thread mobile...with paper birds to hang fro the thread. Find out how to make these below.
CRAFTS MATERIALS NEEDED:

3 Wooden dowels
Thread (various lengths)
Construction paper
Glue
How to Make The Wooden Dowel Structure: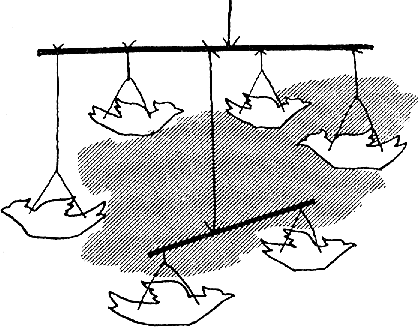 Fasten the three wooden dowels together with thread, as in picture above.
How to Make the Paper Birds & Attach Them to Dowels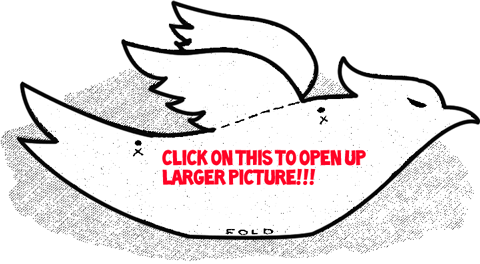 Fold colored construction paper in half. With the folded edge on the bottom, trace or draw a bird. With paper still folded, cut out bird. Paste bird's body together up to the broken line of the wings, as in illustration. Bend wings down at point shown by the broken line. Draw eyes. Attach thread to bodies at points shown by dots (X) Suspend birds from dowels with thread, and when balance is achieved, glue knots to dowels.