Home > Arts and Crafts Projects > Metal Crafts > Techniques for Working with Tin and with Metal
TECHNIQUES FOR CRAFTING WITH TIN & METAL : METAL Crafts for Kids & Teens
(TIN IS VERY SHARP AND REQUIRES ADULT SUPERVISION / ASSISTANCE. ALWAYS WEAR PROTECTIE GLOVES WHEN WORKING WITH TIN) Many beautiful as well as useful things can be made out of ordinary tin cans. Any size can may be used from the small size milk can, to the one-gallon dry cleaner can. Various shaped cans such as sardine, candy, and potted meat cans may be used. No heat or solder is necessary. Joints and wooden handles may be attached with screws. Unusual textures, finishes and surfaces may be obtained by hammering, scoring, pounding and ageing. Open cans with safety type openers that leave a clean smooth edge. Wear canvas gloves to protect the hands. Where flat pieces of tin are needed, cut along seam of can with tin snips and pound flat with mallet. Remove splinters and rough edges with files and emery cloth. Coat finished pieces with clear lacquer to protect them from tarnishing.
TOOLS FOR TINCRAFT:
Tin snips—for cutting sheet metal.
Ball Peen Hammer—for driving tools—round end for texturing metals.
File—for smoothing, rounding and gouging metals etc.
Scriber—for marking metal for cutting. Mallet—for flattening metal without leaving
marks Nail—for driving in nail heads, etc.
TIN CRAFT TECHNIQUES:

(TIN IS VERY SHARP AND REQUIRES ADULT SUPERVISION / ASSISTANCE. ALWAYS WEAR PROTECTIE GLOVES WHEN WORKING WITH TIN)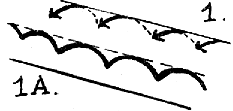 1. TO CUT TIN INTO SCALLOPS
Draw scallop design on tin. With tin snips, cut from the top of the curve to the bottom, all in one direction first, as in Figure 1. Then cut scallops in the other direction, as in Figure 1A.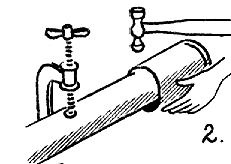 2. TO GET A HAMMERED FINISH ON A ROUND CAN
Fasten a pole to the work table with clamps or a vise. Slip can over protruding end of pole, and hammer evenly, as in Figure 2. To hammer a flat surface, use a flat board under the tin.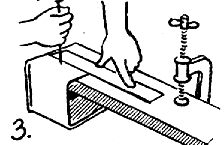 3. TO SCRIBE LINES
Fasten a flat piece of wood to the work table with clamps. With a ruler and a sharp nail, score lines on tin, as in Figure 3.

4. TO BEND TIN
Draw lines on tin where it is to be bent. Clamp a board with a square edge to the work table. Slip the tin between the table and the board and crease sharply, as in Figure 4.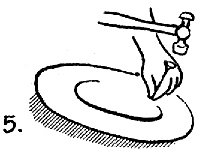 5. TO MAKE A RAISED DOT DESIGN
Draw design on wrong side of tin. Punch design on wrong side, using nail set and hammer, as in Figure 5. Raised dots will be on right side of tin.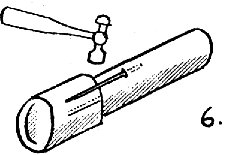 6. TO MAKE A REEDED DESIGN
Gouge a groove in a round pole and fasten to work table. Mark lines on can at desired intervals for ridges. Place can over groove in pole, with a large nail on top of the can. Hold tightly and hammer along length of nail, as in Figure 6.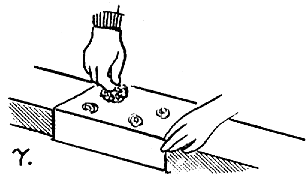 7. TO GET A RUBBED FINISH
Press a wad of medium grade steel wool against surface to be decorated, and twist sharply, as in Figure 7.