Home > Arts and Crafts Projects for Kids > Bobby Pin Crafts for Children
BOBBY PIN CRAFTS FOR KIDS: Ideas for Arts & Crafts Projects & Activities with Hair Bobby Pins for Children, Teens, and Preschoolers
Bobby pin, also knows as a kirby or hair grip in United Kingdom, is a hairpain (usually plastic or metal) used to hold hair in place. Bobby pins became popular in the 1920s to hold the new bobbed hairstyles. But bobby pins now has much more uses, they can be used to hold cloth headbands or bandanna in the hair, or used as a bookmark, or make amazing crafts and hair clips.
You can make jeweled hair pains by basically creating a wire and gem piece and then use hot glue to put them together. Then hot glue the wire creation onto the top of the bobby pin and that's it.
You can also make butterfly barrettes by folding a 6 inch length pipe cleaner in half and slip it into the middle of a butterfly shape (you can make this shape using any fabric of your choice). Pinch the fabric in the middle to give the butterfly a 3D look. Twist the pipe cleaner together at the top and bend the ends to create the antennae. Place the butterfly over the pipe cleaner (6 inch length part) and hook a bobby pin through the pipe cleaner on the back of the butterfly.
Bobby pins can be used also to assist with crafts, for example, when you are using craft glue and you want to hold the materials into place, a bobby pin would be very useful.
How to Make a Bobby Pin Holder

You will need a piece of flexible corrugated cardboard 3 1/2" x 2 1/2", same size piece of colored or figured cloth, glue, 12" length of narrow ribbon, and bobby pins.
Glue cloth to smooth side of corrugated cardboard. Put one bobby pin into each corrugation as shown in sketch. Roll or fold cardboard and tie with colored ribbon. This will make a nice gift for mom.
How to Make Bobby Pin Frames

All you need for a special antenna-shaped stand for a prized photo is a pair of bobby pins. Use rubber-tipped pins to avoid scratches. Bend the back part of the pins downward to form a support and insert the pictures between the prongs. Paint the pins to match the color scheme in your room.
Making Bow Ties with Bobby Pin Clips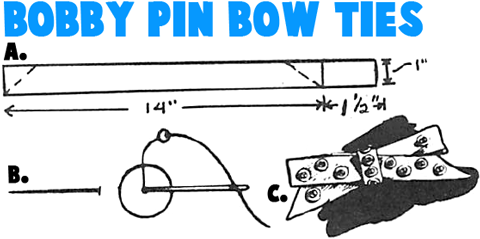 This Perky Bow Is Easy And Fun To Do. Cut 1 1/2" off end of felt strip for center of tie. (See drawing A above). Clip off each end of felt strip at an angle, as indicated in drawing A (with the dotted lines). Fold Bow in thirds and wrap tie around center, as seen in drawing C. Sew ends of center together on back of Bow. Sew sequins and beads onto Bow. Slip bobby pin through tie for clip or stitch pin onto back of Bow, as seen in picture B above.
Even More Bobby Pin Crafts

Make a Working Bucket and Well with a Bobby Pin - Learn how to make this mechanical well with a cup, spool, string, and a bobby pin.
You Might Also Like... Friendship Bracelets Crafts ... Macrame Crafts & Instructions... Crafts with String ... Jewelry Making Crafts ... Bracelets ... Lanyard Crafts ... Decorative Pins ... Rings ... Necklaces ... Hair Bows ... Hair Barrettes and Clips ... Hair Scrunchies and Pony Tail Holders