Home > Arts and Crafts Projects for Kids > Puppets >Hand Painted Fist Puppets
MAKE HAND / FIST PUPPETS ACTIVITY FOR KIDS
Learn how to make the silly hand puppets - the kind that are painted on the hand. It looks so funny...to make the puppet talk by moving your thumb up and down.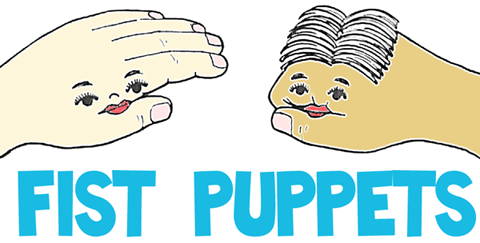 You will need the following crafts materials:

Water color paints and paint brush
or
colored pencils
or
lipstick and eyebrow pencil
yarn
How to Make Fist Puppets ... the Kind That Gets Painted on Hands

To make this, you first need to draw a face on your fist as seen in sketch a - the upper lip on the side of your fist, the lower lip on your thumb, the nose on your first knuckle, and the eyes above. A wig may be made of yarn strands stitched down the center. Tape the wig to your hand or wind a few strands of yarn from the wig around your little finger. To make the puppet talk, tuck your thumb in your fist and move your thumb up and down gently. Add the tongue by sticking your thumb from your other hand between your thumb and fist.