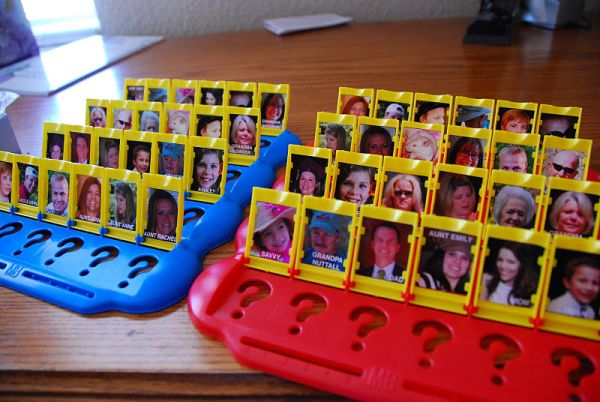 Did you know there are tons of crafts out there that you can make from Photographs?  There really are.  And, the cool thing about making crafts with Photographs is that you will have a keepsake for your memories for years to come.  Wouldn't it be cool to take copies of your most precious pictures and make them into something useful?  For example, I found a craft that you can take your photographs and make wrapping paper or a tissue box…. or how about taking family photographs and making them into a Guess Who game.  Check out all of these crafts plus many more in this post. You are sure to find a Photograph craft you will enjoy to make.
Fun Crafts Made from Photographs
(1) Child's Blocks
Aren't these Child's Blocks cute?  The craft is an easy one, but it turns out so adorable.  Imagine these being in your baby's room… wouldn't that be cute?  You can find out how to do this craft over at Parents.com.
(2) Bottle Cap Magnets & Thumbtacks
Here is another way to keep your memories close at hand.  MarthaStewart shows you how to take your favorite photographs and make them into bottlecap magnets you can put on the fridge or thumbtacks that you can post proudly at the office on your bulletin board.
(3) Homemade Wrapping Paper
Could you imagine handing a family member a gift wrapped in wrapping paper that has pictures of their little loved ones on there?  They would love the wrapping paper just as much as they will enjoy the gift inside.  You can find the "how-to" of this craft over at FamilyFun.
(4) Guess Who Game
Ok, I think this is my favorite Photograph craft of them all.  It is just so creative.  MadsMemories takes the characters of the classic Guess Who game and replaces those characters with photographs of members of the family.  Imagine playing that Guess Who game with the kids.
(5) Photo Puzzle Box
Here is a fun craft for you puzzle lovers.  How about taking one of your favorite family pictures and making it into a puzzle and putting them on blocks.  Take the picture puzzle and mess them all up…. can you put it back together again correctly?  You can find this craft over at PhotoJojo.
(6) Photo Placemat
Now here is a wonderful way to display your family photos that are sure to be seen at least 3 times a day…. make them into a Photo Placemat.  Not only will you enjoy sitting down to your meals and looking at this great way to display photos, but imagine how much your other family members would love receiving these placemats as a gift.  Check out Kaboose for the craft details.
(7) Tissue Box
This is a very cool craft…. and so much fun to not only put together, but display for all to see.  You can be creative and do only Winter Scenes on the tissue box, or funny pictures, or how about old pictures like the tissue box shown above.  Either way it is sure to be a conversation piece.  Check out the craft over at RightAtHome.
(8) Photo Stickers
I love this idea…. photo stickers.  These would be great to decorate party favors for birthday parties or graduations.  Well, really any festivity.    Here MarthaStewart shows you how to achieve this fun keepsake photo memory for yourself.
(9) Photo Bookmark
Now, this is a great way to save your photographs in a way that you can look at them many times a day…. make them into a bookmark to use with your favorite book.  This way you know you will be enjoying it.  The crafter at About uses their favorite animal photographs for their bookmark, but you can use your friends or family members for your bookmark if you wish.
(10) Paper Napkin Decoupage
Here is an interesting and creative way to display your pictures.  How about using napkin decoupage to transfer your pictures to a pot, plate or candle.  Not only does it turn out really cool…. but the craft itself is a ton of fun to make.  The instructions for this craft can be found at PhotoGiftGuide.com.
Technorati Tags: photo crafts, photograph crafts, picture crafts, crafts made from photographs, crafts made from photos, crafts made from pictures, memory crafts, keepsake crafts