Home > Arts and Crafts Projects for Kids > Magazine Crafts for Kids
MAGAZINE CRAFTS FOR KIDS : Ideas for Arts & Crafts Projects & Activities with Cut Up Pages from Old Magazines for Children, Teens, and Preschoolers
Here are magazine crafts activities and instructions for kids to make beautiful crafts projects with used / recycled magazines. Find childrens' magazine crafts below.
Make a Jigsaw Puzzle from Magazine Pictures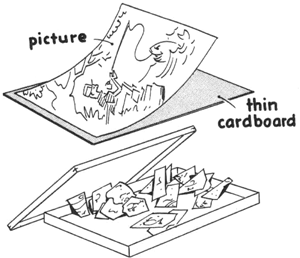 Look through old magazines for colored pictures—landscapes or any other scenes you like. Cut one out and paste it on thin cardboard. Put it between thick books and press overnight. Then, with a sharp pair of scissors or a carving knife, cut the picture in many pieces, varying the shapes. Try to put the puzzle back together, or put the pieces in a flat box and give it to a friend. If you make one for a younger sister or brother, cut the picture into fairly large pieces so it will be easier to assemble.
Make Funny People Collages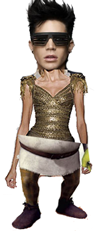 Funny people This provides a good rainy day project, and it also makes an excellent game to play at the next party. It's the kind of game that is lots of fun and there will be tons of laughter. Get a stack of old magazines, construction paper, scissors, and clear tape. The idea is to assemble a person by cutting out the head, body, arms, legs, and feet from different pictures and sticking them together on construction paper with tape. See what a funny person can be made by combining different elements from different pictures. You can even mix in animals and cartoon characters with a real person...it will be really silly fun.
Magazine Cut-Outs to Make Silly Pictures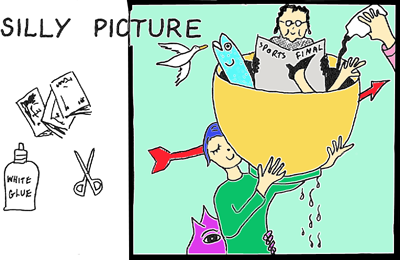 A silly picture can take several hours to complete, and for this reason it is an excellent one to complete on a boring, rainy day. Use magazines that have large colorful pictures. Glue a large picture on cardboard, a picture such as a house and a yard, or a single object such as a car, bathtub or teacup. Cut out various pictures of people and things that are silly in relation to the first picture, and glue them on the main picture will take several hours to complete, but the picture can be laid aside at any time and completed in another session. Try a silly picture contest with your friends or brothers and sisters.
More Magazine Photo Crafts

Beautiful Folded Magazine Page Hearts - Have any magazines that you don't need anymore, recycle / upcycle the magazines into beautiful hanging hearts...we will show you how to do this

Fanned Out Magazine Christmas Tree - Upcycle a magazine into a beautiful, standing Christmas Tree Decoration.

Magazine Paper Bead Necklaces - Learn how to make these beautiful magazine page paper beads and turn them into necklaces.

Magazine Pendants for Necklaces - These pendants might be made from recycled magazines, but you can't tell...they turn out beautifully.