Home > Arts and Crafts Projects for Kids > Animal Crafts > Squirrel Crafts Arts and Crafts Projects Ideas for your Kids
SQUIRREL CRAFTS FOR KIDS: arts and crafts projects with the following ideas, decorations, instructions, patterns, and activities for children and preschoolers making squirrels
Squirrels are small mammals, very active and are well known for their bushy tails. A squirrel may be a family to rodents but they are super cute. The family of squirrels includes ground squirrels, flying squirrels, tree squirrels, marmots, woodchucks, chipmunks, and prairie dogs. You will mostly find squirrels in the Americas, Australia, Africa and Eurasia. Squirrels lives in tree hollows or nests which they build from leaves and twigs.
While learning about these fascinating creatures, children can make their own squirrel craft from materials of nature such as twigs and pine cones or other materials such as construction paper, pipe cleaners and toilet paper rolls.
Making Stand-Up Paper Squirrels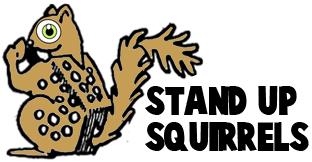 To make stand-up paper squirrels, you will need to first choose which squirrel printable you want...a black squirrel, a white squirrel to color in yourself, or a tan squirrel. Once you choose a squirrel page to print, then you need to cut out the squirrel's body and head. Cut a slit in the body where it shows you to. Fold the squirrel on dotted lines...bend and push the squirrel's tail through the slit to keep the squirrel together. Cut a slit for the head to fit into or glue it in place. You now have a squirrel that stands on his own.
How to Make Squirrel Masks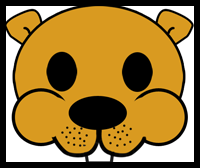 To make this paper squirrel mask, just go to the printable squirrel mask template and print it out and follow the directions on the page.
Drawing Cartoon Squirrels with Circles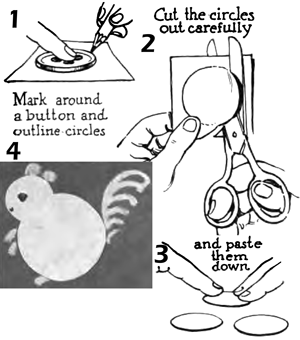 It might surprise you, but squirrels can be made from simple shapes. To show you this, cut out a big circle and a smaller circle. You can use buttons or coins to help you draw nice circles. Put the smaller circle on the top of the larger circle and paste it down like this. The picture above (#4) is on a slant towards the left, but you don't need to. You can then draw a circle for each ear...2 ovals for the hands...and one oval for the bottom foot. For the eye you can draw an oval ...and a letter 'v' for the nose. For the tail. draw a letter 'c'...and then draw downwards curved lines from the top down. You now have a squirrel.
Easy No Folding & No Pasting Paper Model Squirrel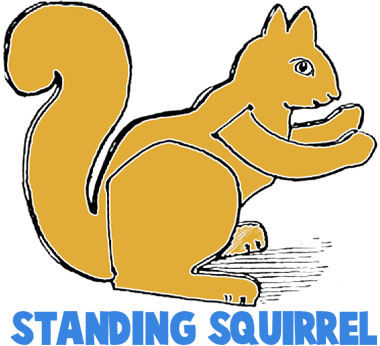 This is a much easier-to-make than the paper model squirrel above. First print out the squirrel template. Then cut it out. You can color it with crayons, markers, or colored pencils if you want to. Then fold the legs and arms in half on the dotted lines. And put them thru the slits that you cut. Now you can stand up your squirrel or play with him.
If you want to learn how to draw cartoon squirrels, then here are two step by step drawing tutorials to help you. Click on the image above to choose the lesson to try.
More Squirrel Crafts

Furry Squirrels - Here is a craft to make these adorable, furry squirrels.

Chain of Squirrel and Other Critters - Chain these little critters across a wall or window.

How to Draw Sandy the Squirrel from Spongebob Squarepants - Do you want to learn how to draw Sandy Cheeks from Spongebob Squarepants? I have put together a step-by-step tutorial that will help you figure out how to draw Sandy Cheeks by using simple shapes to build up Sandy Cheeks' form.

3D Squirrel Paper Craft Idea for Kids - This is a cute, simple paper craft that results in a 3D ornament you can hang around the room.

Coffee Grounds Squirrel Arts and Crafts Project for Kids - Use and develop fine motor skills while create an art project.

Folding Origami Squirrels Models - Squirrel origami model.

Herbivores Sock Puppet Squirrel : Crafts with Socks Activities for Children - You may need adult supervision to do the project. Always use care when using tools or a heat source. Be careful and safe!

Paper Squirrel Craft Activity for Children - This cute squirrel is a great craft for young children. Assembling him from our template pieces is a great lesson in following directions, and he makes a great addition to your fall craft list!

Pipe Cleaner Squirrel Finger Puppets - Make this adorable squirrel finger puppet with a pipe cleaner, a pom pom, some googly eyes, etc.

Printable Squirrel Craft - Isn't this little guy cute...do you want to learn how to make him? Visit this craft and then print it out and paint it and then put it together as in the instructions.

Squirrel Paper Craft Idea for Children - This squirrel is a simple cut and paste paper craft that is fun for young children to make. It makes a great project for preschool and kindergarten kids (though my 9 year old really enjoyed it too *grin*)


Squirrel TP Craft - This is a slightly different toilet paper roll craft - you actually smoosh the the cardboard tube inwards to make the cute shape of the squirrel. Find out how to with the following tutorial.

Squirrel Toilet Paper Roll Craft for Kids - This is a fun and easy color, cut and paste craft that uses a toilet paper roll as a base to give the project a three dimensional effect.

Toilet Paper Roll Walnut Squirrels - Make these adorable squirrels with toilet paper rolls, some felt, a walnut, googley eyes, a pom pom, and a few other items.