You Might Enjoy Our New Travel Games Section
Play the 5 Dots Drawing Game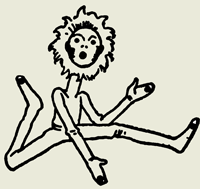 This is a fun game to play with one of your friends at lunch or just on a boring day when there is nothing else to do. One of you draws 5 dots in any pattern that you want. Your friend then has to somehow figure out how to draw a person out of those 5 dots. One dot for 2 hands, 2 feet, and one in the person's face / head. This will bring on a ton of laughs.
Invisible Pictures Trick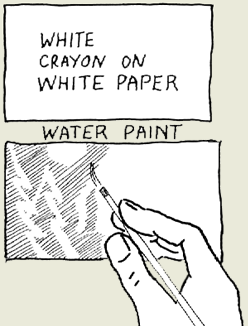 Prepare the picture before you meet up with your friends. Use white crayon on white paper or yellow crayon on yellow paper, etc. This way the drawing will be invisible. Give your friends some watercolor paints in several colors. Tell them that the magic picture will appear when the picture is painted over with the wet brush. Your friend will love when the picture appears.
Fun Coin & Glass Cup Trick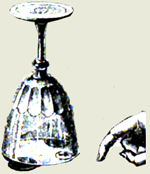 If you have a tablecloth on your table, a glass, and a few coins in your pocket, then today is the perfect day to try a trick out on your friends. Turn a glass upside down and have it stand on top of 2 coins, as you can see in the picture above. Put a 3rd coin under the elevated cup. Ask one of your friends to try to get the coin out without touching the glass. When none of your friends can figure out how to do this. Say 'Hocus Pocus' and scratch the tablecloth near the glass, the coin will start moving towards you and will soon be outside of the cup. This is a fun little game!
Fun Toothpick Tower Games
Here's a very fun game! The first player places a toothpick on top of a bottle. The second player does likewise. The object of the game is to keep on piling toothpicks on the bottle without knocking any off. If a player disturbs the pile so that a toothpick rolls off, he loses the round and his opponent scores 1 point. All the toothpicks are then removed and a new toothpick tower is started. The player who scores 10 points first, wins the game.
The Coin and Playing Card Balancing Trick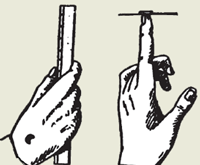 You can start this trick out by balancing a playing card on the tip of your pointing finger. Now place a nickel on top of the playing card ... and try to balance that. Now hit the card with a pencil or a ruler and the card will fly away quickly, leaving only the nickel balanced on your finger. If you are able to do this, next try to just snap your finger directly forward to fling the card away. It is a hard thing to master. Try to fling your finger without pushing the card up or down but just forward. Good luck.
Talking Hand Puppet Game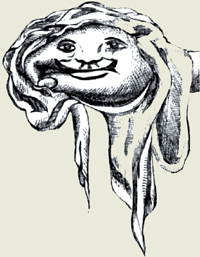 This is a lot of fun to do. Ask your parents if it would be okay to draw on your hand before playing this game though. If they are okay with it, then clench your hand into a fist. With your knuckles facing up and your thumb covering your other fingers, draw a face on your hand. Draw the mouth on the thumb and pointer finger, as pictured above. Draw the nose and eyes right above the mouth. If you have a piece of cloth, a play wig, a handkerchief or a bandana, a doll hat, or other head piece, drape, it around the hand like it is hair. Now make the person speak by carefully moving the knuckle of your thumb up and down. It is a lot of fun and you can make everyone laugh hysterically if you are a funny kid.
Ideas for Activities and Crafts for Kids

Find Arts and Crafts Projects and Activities for Children, Preschoolers, Teens, and Toddlers. Here are All of the Crafts in Alphabetical Order
Below you will find fun ideas that are all quick and easy to make with materials that you most likely have just sitting around the house. None of the following crafts will take a lot of time to do, and they are all great boredom busters for those rainy days when you are just stuck inside watching tv. We'll keep them up to date for all of the nearest holidays that are just around the corner.
Decorate Your School Book Bags with Patches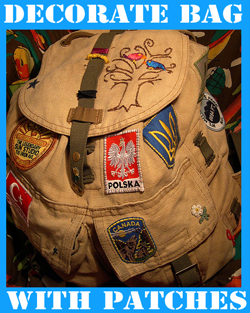 It is almost time for back to school shopping...instead of buying an expensive book bag, here is a great idea. Another idea is to use stylish embroidered or cloth patches that either can be sewn on or ironed on. These look really awesome and really make any bag look unique. I found an online store called Laughing Lizards that has them, but you can also get them on Ebay, at Amazon
or at your local crafts store.
Here are More Back to School Crafts
Creating a Giant School Pencil Organizer for Back to School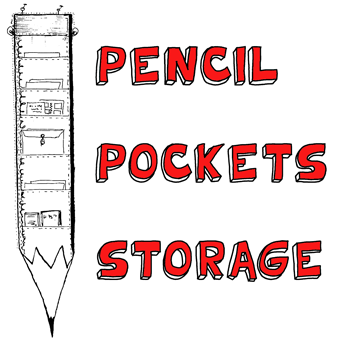 This is a great school organizer...plus it looks like a school pencil. Paint a large piece of paper to look like a pencil. Then go out and get contact paper and cover it completely. Then get large, clear plastic bags and attach them like pockets all over the pencil...either by sewing or by gluing on the 3 sides, keeping the top open so it is like a pocket. Then hang it on the wall. You can attach a whiteboard marker with a string to the top of the pencil so you can write messages and notes all over the pencil for reminders...store schoolwork in the pockets.
Here are More Back to School Crafts
How to Make Laced Book Covers
Measure the book that you want to cover...then cut a piece of felt, leather, or plastic that will fit around your book plus an extra 1/2 inche on each side of the book. Now use the same material to cut 2 flaps that are about 2 1/2 inches wide and the same height as the book that you are covering. Now lay the cover out flat, with the wrong side of the fabric facing up and then clip flaps at each end of the cover with paper clips as seen in the picture above. Now use an awl or punch to punch holes all around the edge of the cover ... each about 1/2 inch apart (about 1/4 inch from the edge). Make the first 2 holes at each corner only 1/4 inch apart...see sketch above. Now start lacing at the center bottom and lace all around the cover ... and lace the flaps in place for pockets. You should use ribbon for felt covers and plastic lacing for the leather or plastic covers. Overlap ends of lacing and tie or sew in place. Now you can place the book into your newly crafted cover.
Here are More Book Cover Crafts Ideas
Fabric Designed Composition Notebook Cover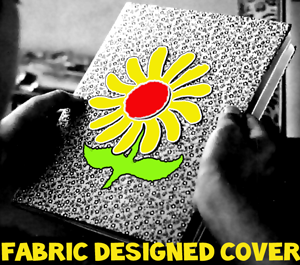 Here is a daisy of a notebook cover to be made now—used later! YOU WILL NEED: glue, fabric (large enough to cover your notebook), scissors, bits of fabric or felt in 2 or 3 colors, and a composition notebook. To make it, brush some glue over the notebook, then cover them with the fabric as you would with paper. Cut any simple outline you wish out of the felt or the solid fabric (a butterfly, a flower, a heart, a geometric design, etc). Then cut the small details of the object out of felt or fabric of a contrasting color (the dots for the butterfly's wings, the leaf on the apple, or the stem, the leaves and center of the flower). The best effect can be achieved with the greatest number of layers—as you add these colorful details one on top of another, you also add depth, dimension, and texture to the picture. When you've cut all the necessary pieces, glue these felt layered design elements to the front cover of the composition notebook.
More Crafts Ideas for Your School Binders and Notebooks
More Crafts Ideas on Our Blog.