FIND PROJECTS BY:
CRAFTS IN ALPHABETICAL ORDER

CRAFTS BY ITEMS

CRAFTS BY THEME

CRAFTS BY HOLIDAY

OUR NEW APP!
OTHER KOOOL SITES
Home > Arts and Crafts Projects >Airplane Crafts > Paper Airplane Crafts > Wooden Airplane Shooter
HOW TO MAKE A PAPER AIRPLANE SHOOTER : Making a Wooden Airplane Shooter Crafts for Kids & Teens
Most children already know how to make some sort of paper glider, but the one illustrated here is the one that works best with the shooter. This little bugger can propel your paper airplanes long distances...you'll love it! Here are
More Paper Airplanes and Gliders to Make
.
This craft requires parental assitance and supervision.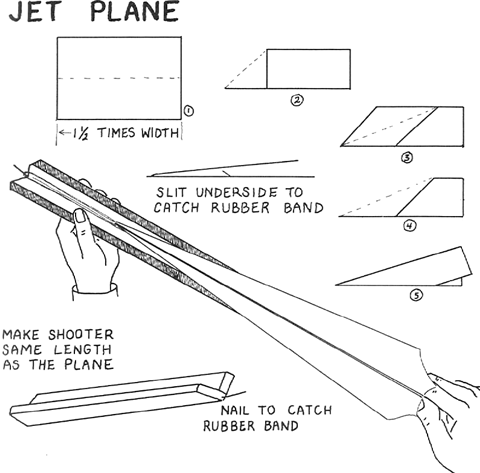 CRAFTS MATERIALS NEEDED:
hammer and nails
pencil
sandblock
garnet paper
square
paper
rubber band
wood
crayons
How to Make Them:

(Parental Assistance and Supervision Required) Fold the plane from a piece of crisp paper, 51/2 by 81/2 inches, or the size of half a sheet of typing paper. The shooter is made of two pieces of wood, 3/4 by 1 1/2 by 8 1/2 inches, or the same as the length of the glider. Butt the edges of the wood together, fasten with nails, and sand free of splinters. Hammer a headless nail I lalfway into one end, for the rubber band to catch. Slit the airplane near the nose, for the other loop of the rubber band. Color both lie plane and shooter for identification.
Considerable accuracy and distance are possible with the shooter. Children can try for altitude, distance and length of flight in time, or targets can be improvised with folding chairs. Have them try shooting the planes through the back frame of a chair.