FIND PROJECTS BY:
CRAFTS IN ALPHABETICAL ORDER

CRAFTS BY ITEMS

CRAFTS BY THEME

CRAFTS BY HOLIDAY

OUR NEW APP!
OTHER KOOOL SITES
LEARN TO SEW BASIC FABRIC APRONS with CRAFT PROJECT FOR KIDS
Find out how to make and sew fabric aprons...great gift for mom or your grandmother
Home > Arts and Crafts Projects > Fabric Crafts > Sewing Fabric Aprons
Below you will find a basic illustrated tutorial for sewing a fabric apron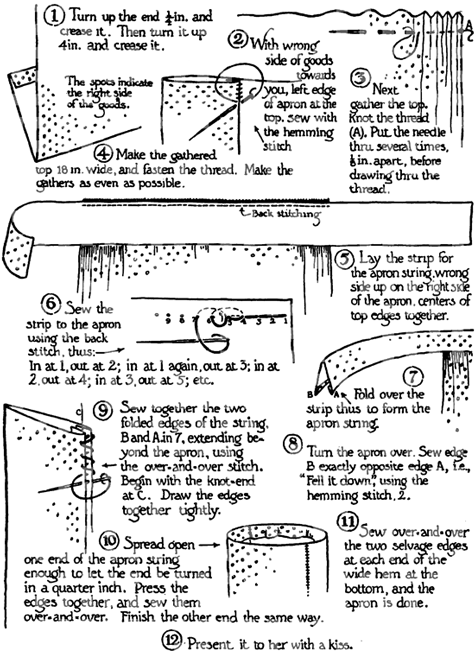 Learn how to make this beautiful apron with the instructions above. Get a nice piece of fabric and turn the end of 1/4" and crease it. Then turn it up 4 inches and crease it. With the wrong side towards you, sew it together with the hemming stitch. Next, gather the top in pleats and knot the threads....put the needle thru several times, 1/8" apart before drawing thru the thread. The gathered top should be 18" wide...try to fasten the thread as even as possible. Continue reading the instructions in the above diagram to make this beautiful apron as a gift.