Home > Arts and Crafts Projects for Kids > Acorn Crafts for Kids
ACORN CRAFTS FOR KIDS : Ideas for Arts and Crafts Activities & Projects with Acorns and Nature for Children, Teens, and Preschoolers
During the Fall / Autumn season, it is fun to make things out of Acorns....since they are everywhere (at least where I live in North Eastern America). Acorns are also called an Oak Nut, and contains a single seed (usually) with a tough leathery shell.
The neat thing about Acorns is that they have the natural shape of a person's head wearing a hat. This makes a really cute project. Just take some paint out and paint eyes, nose, and a mouth on the Acorn's surface. You can also paint the cap / hat part of it...put this is optional. It is a good idea to varnish the acorn afterwards to make sure that it isn't infested by insects....yuck.
During the Halloween season, you can paint them orange and then paint triangle eyes and nose on them to look like a Miniature Pumpkin Jack-o-Lantern. They are so cute and very easy to create.
How about making a squirrel with a carboard tube and felt or paint. Then use pipe cleaners for arms and wrap it around an acorn...since squirrels eat acorns. This is an adorable craft and a great table decoration as well.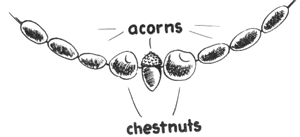 It sounds strange, but you can also make beautiful acorn jewelry by stringing varnished acorns like they are beads. They look gorgeous if you paint them all different colors. You can then paint faces on all of the acorns or paint your Name's letters on them for a really beautiful necklace.
For Thanksgiving, a lot of people make Pinecone turkeys with acorn heads...you can do the same by making an adorable pinecone / acorn field mouse.
Below you will find Acorn Crafts Projects and Activities for Kids. Make cool crafts with recycled acorns from nature.
Acorn People & Animals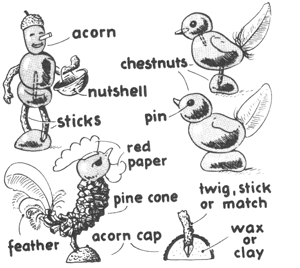 These characters can be made with acorns and other types of nuts, such as chestnuts and walnuts. You will also need pine cones, craft feathers, and twigs. This craft is perfect for a nice Autumn stroll...you can pick up most of what you need on your walk. You can collect all the material on an autumn walk. You can make a person with nuts for head and body, and twigs for the arms, legs and nose. You can make a chicken's body with a pine cone, and legs and beak with sticks. You can make eyes with pins. You can put the legs of each character into wax or clay. Make other characters that you wish to make.
Acorn Sail Boats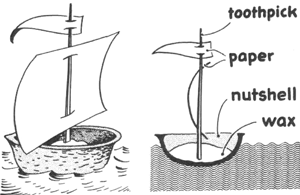 Who would have thought that a normal acorn could be transformed into a cute little sail boat?! Just because you find acorns out in nature, doesn't mean they can't be turned into a cool toy. Go out on an Autumn stroll and collect some acorns while you are out there. Make sure each acorn's shell is without breaks or cracks. First of all, break each acorn in half. Then clean the seeds and other mess out of each acorn shell. Find a material that you can make a sail out of ... such as felt, plastic, or paper. Take a toothpick or drinking straw and this will be your mast. Glue the sail onto the straw or toothpick...and now you have a sail for your boat. Place wax, clay, putty, or Play Doh on the bottom of the shell. Stick your mast into this so that your sail will stand up tall. Now your sail boat should sail and you can play with it in a puddle or your bath tub.
Make Decorative Pins with Acorns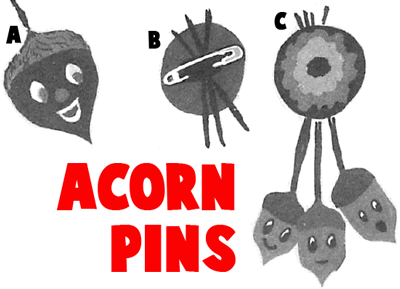 Find your favorite acorns and paint faces on each of them. Each acorn will look adorable and the top will look like little hats. Tie a string around the cap of each acorn. Then cut out a circle piece of cardboard. Paint a design on it and let dry. The glue a safety pin and the 3 strings onto the back of the circle cardboard. Let dry completely. Now your decorative pin is ready to wear. Every one will love the cute little faces on your acorns.
Acorn & Chestnut Animals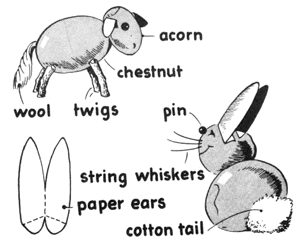 Here is another craft to make an animal out of an acorn ...although this time we will also use a chestnut as well as twigs. We will make a sheep and a bunny, but you can make as many animals as you want to. The sheep's head is an acorn and the body is a chestnut. Attach them together with strong glue or a toothpick. Find bent twigs to use as legs. Use a black permanent marker to draw eyes on. And you can use paper to make the ears. You can use some yarn for the tail. The bunny's structure is made in a very similar manner to the first animal. Again, the head will be made of an acorn and the body with a walnut. You can make ears out of paper or felt and a cotton ball or pom-pom ball tail. Use a pin as the nose and draw on the mouth and eyes with a permanent black marker.
Pinecone Acorn Turkeys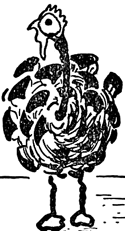 This is a great Autumn seasonal craft as pinecones and acorns are all around and Thanksgiving is just upon us. Pinecones are great for making the body of a Turkey. You will use an acorn as the head here...and you can use beads for the eyes, and sticks or twigs for the legs. You can glue all of these items together to make the entire turkey. When the glue has dried, paint the turkey with colorful paints.
More Acorn Crafts

Autumn Dolls - Make these cute little dolls with an acorn head and stick bodies.