Home > Arts and Crafts Projects >Masks > Making Paper or Cardboard Masks
MAKING 3D CARDBOARD or PAPER MASKS : How to Make Masks with Paper or Cardboard
Here is a really simple craft that can be made into just about any sort of mask that you want. It is so much fun to play dress up and here is a great way to go about making a mask to dress up with. You can use our mask to print out or you can design a mask of your own. You can be whoever you want when you wear masks...who are you going to be?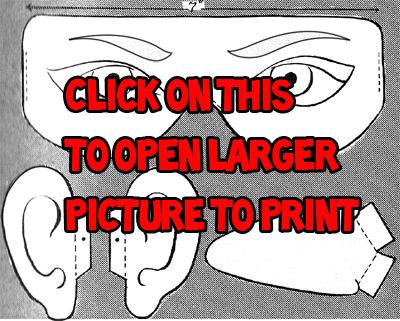 CRAFTS MATERIALS NEEDED:

1. Paper or Cardboard
2. Scissors
3. Paint or Markers
4. Elastic or String
HOW TO MAKE IT

1. On heavy paper or thin cardboard, either copy the four parts of the mask illustrated, or design one of your own.
2. Cut out the parts and paint in the features of the mask.
3. Make the eye holes, shown by blackened area in the illustration.
4. Bend back the ear tabs, shown by the broken line, and paste in place on the mask, at points shown by broken lines.
5. Fold the nose lengthwise down the center, and bend the nose tabs forward, as shown by the broken lines. Paste nose below bridge of the nose, at points shown by the broken lines.
6. Pull a piece of string or elastic through the black dots behind ears, to hold mask in place.