Home > Arts and Crafts Projects > Christmas > Christmas Trees > 3D Christmas Trees
MAKING MINI WOODEN CHRISTMAS TREES : Woodworking Crafts for Teens
This is a project that will require several sessions to complete and is best for a shop class. This is a craft for teens with adult supervision, as a power saw is a must. (ADULT SUPERVISION AND ASSISTANCE)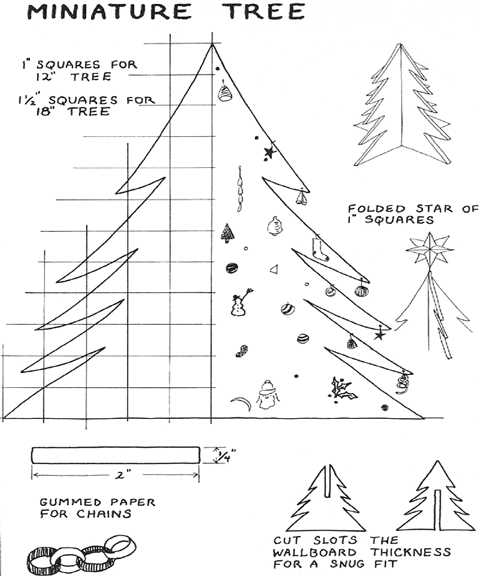 CRAFTS MATERIALS NEEDED:

awl
glue
mallet
pencil
ruler
scissors
3/4 -inch circle punch
flower wire
colored paper
thread
wallboard
old magazines
How to Make Them:
This craft requires parental assistance and supervision! This project would be best if you partially prefabricated it for the class. Although it is possible, with skill, to cut wallboard with a coping saw, wallboard has little lateral strength, and the teenagers will invariably snap off one or more branches if they try it. Use any type of wallboard, as long as it isn't made of plaster. Draw the pattern on the board, and nail several boards together, to speed up sawing. Nail through the waste parts, so that the saw blade will be cleared. A tree 12 to 18 inches high is the best size.
Saw slots in each tree, just the thickness of the wallboard, for a snug fit. The board is wide enough so that no base is needed. Paint with green poster paint, which makes a good base for glued-on ornaments.
Use a 3/4 -inch circle punch to prepare an assortment of colored circles from old Christmas wrappings, foil coated paper, construction and gummed papers. These will be the right size for miniature circle ornaments. For other ornaments, lay out a variety of colored paper of assorted kinds, so that the children can cut two-dimensional ornaments, such as moons, stars, balls and bells. These can be glued to the surface of the tree. To hang the tiny circle ornaments, punch a hole with an awl, or make a small slit at the top of a branch. Use thread or flower wire to attach.
For miniature chains, cut paper 1/4 by 2 inches, of assorted colors. Use old magazines for ornaments. Many of the ads will be in bright colors. Snip out pieces to make different paste-ons. Ads with Christmas designs can be cut out as is, such as snowflakes, sprigs of holly, little Santas, and pictures of ornaments.
Very tiny ornaments can be made from the cleanings of the paper punch, or these can be prepared especially, by punching into colored paper.
To finish the top of the tree, make a star. Younger children can cut out a small, two-dimensional one, and older children can do a miniature folded star, using paper one inch square. Fasten either star to the tree top by slitting the wallboard and pushing a star end in.