Home > Arts and Crafts Projects > Jewelry Crafts > Coin Bracelets or Necklaces
MAKING COIN BRACELETS or NECKLACES : Jewelry Making Crafts for Kids & Teens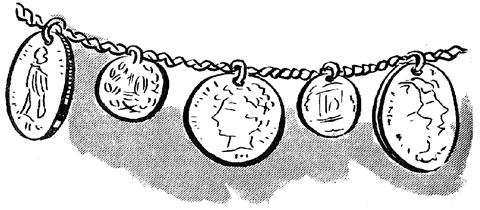 To make a very unique necklace or bracelet, you can use currency from different countries to make up your international necklace. Everyone will be in awe of your beautiful bracelet / necklace. This is a great craft to make after visiting a foreign country...you can always remember your trip by utilizing that country's currency into a beautiful bracelet or necklace. Pick out your favorite coins and make your beautiful new jewelry with the following instructions.
CRAFTS MATERIALS NEEDED:

6 Coins (various sizes are fine)
Hardware
Chain
Hand Drill
Jump Rings
Necklace Clasp
Sandpaper
How to Make Them:

With an adult's help (make sure to use eye protection), use a hand drill to make a small hole in the top of each coin. Attach coins to chain with jump rings. Close link with pliers. Smooth joints with sandpaper. Attach necklace clasp for fastening.