Home > Arts and Crafts Projects > Fathers Day Crafts > How to Make Cardboard Tube Tie Racks
HOW TO MAKE CARDBOARD TUBE TIE RACKS : Father's Day Crafts for Kids & Teens
Does your dad wear ties on occassion...or maybe even on a daily basis? If so, he might like a tie rack for Father's Day or for his birthday. A man can never have too many places to hang his ties. This craft is made with a recycled paper towel roll or a cardboard tube from a used waxed paper roll. Decorate the paper towel roll with colorful tissue paper. You then use colorful string or ribbon to hang the tie rack up. It will look really nice for your daddy.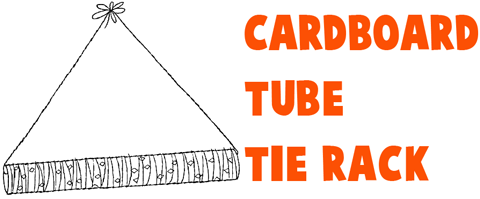 CRAFTS MATERIALS NEEDED:

Cardboard Tube from Waxed Paper or Paper Towels
Tissue Paper
Ribbon or Colorful String
How to Make Them:


(1) Use cardboard rolls from waxed paper or paper towels.
(2) Wrap red or green tissue paper around roll.
(3) Take a piece of ribbon or colored string about three times the length of the roll and run through the roll.
(4) Tie into bow for hanging on the wall.
(5) Tuck in the tissue paper edges at the end.