Home > Arts and Crafts Projects > Crafts with Boxes > How to Make Cardboard Box Baby Doll Cribs
HOW TO MAKE BABY DOLL CRIBS or BEDS : Arts & Crafts for Kids & Teens
You can make this beautiful little doll bed which will be nice enough for your prettiest doll, from an ordinary cut-down shoe box. The bed is propped up with used thread spools. Once you paint it and decorate it, this will be the prettiest doll crib / bed around. To make it you will need the following materials: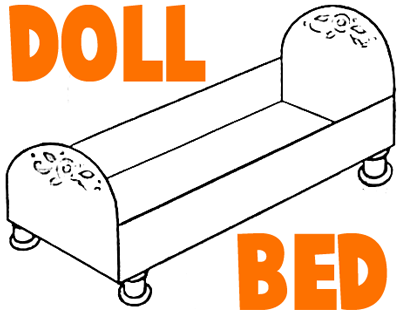 CRAFTS MATERIALS NEEDED:

Shoe box
Empty spools of the same size
Ruler
Pencil
Magazine cut-outs
Glue or paste
Paints and brush
Crayons
Scissors
How to Make Them:

(1) Remove the cover from the shoe box and throw it away as you will not need it.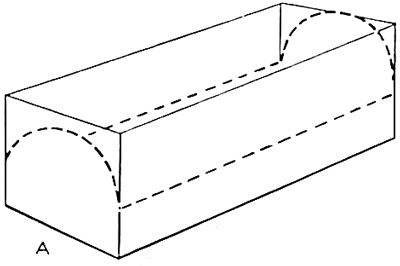 (2) With a pencil and ruler, draw the portions to be cut away for the headboard, footboard, and 2 side pieces. Make the headboard a little higher than the footboard, as in illustration A.
(3)Cut away the unwanted portions.
(4) Paint the bed a solid color and allow it to dry thoroughly.
(5) Paint 4 spools, of the same size, in a contrasting or harmonizing color and allow them to dry.
(6)Glue the spools to the bottom of the bed for legs.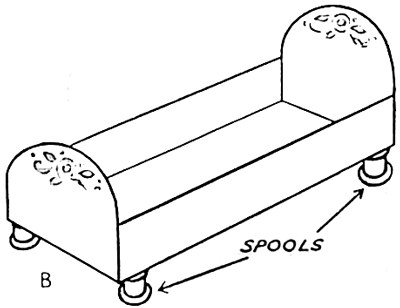 (7) Either decorate the bed with paints or crayons, or glue on magazine cut-outs, as in illustration B.