Home > Arts and Crafts Projects >Native American Crafts> How to Make Cone-Shaped Drinking Cup Tepees.
HOW TO MAKE TEPEES with CONE SHAPED DRINKING CUPS : Native American Crafts for Kids & Teens
If you happen to pass by a water cooler that has the cone-shaped cups, grab a few of them. These cone-shaped cups make terrific tepees. You can make a dozen or more of these colorful little tepees with which to build an Indian village in less than a half hour. Find out how to make these native american houses with the following step by step tutorial.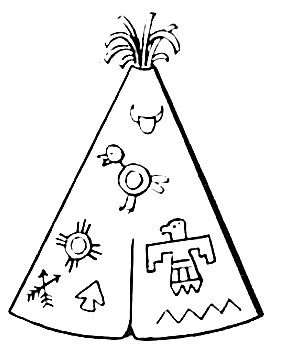 CRAFTS MATERIALS NEEDED:
cone-shaped drinking cups
scissors
crepe paper
glue or paste
brush
paints
wax crayons

How to Make Them:

(1) Cut the tip off a cone-shaped drinking cup with a pair of scissors, as in Illustration A.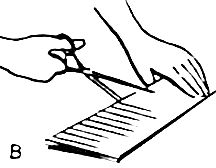 (2) To make the crepe paper fringe for the top of the tepee, fold a small square of crepe paper over 2 or 3 times. With a pair of scissors, cut slashes at regular intervals through the folded paper to a depth of about 1 inch, as in illustration B.
(3) Open the crepe paper and gather together the uncut edge. Push the gathered
crepe paper into the hole at the top of the tepee so that the fringed end sticks out. Glue in place.
(4) Decorate the tepee with colored wax crayons or paints in Indian designs and symbols.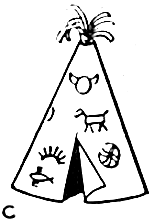 (5) Cut a two-inch slit up from the bottom edge of the tepee and bend it back for the entrance, as in illustration C.