Home > Arts and Crafts Projects > Cardboard Box Crafts >Crafts Supplies Treasure Chest
HOW TO MAKE A CRAFTS SUPPLIES TREASURE CHEST : Crafts for Kids & Teens
This isn't really a craft..this is an activity to make a treasure chest full of craft supplies to keep on hand. It is easier to just look in your chest of supplies than to head over to the grocery store every time you need something. You don't have to actually make the chest look like a treasure chest...but it would be fun to decorate it.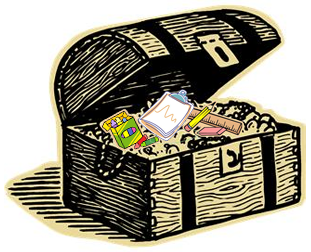 CRAFTS MATERIALS FOUND AROUND THE HOUSE:
Here is a list of discarded and waste materials for your treasure chest which will turn out to be your "pleasure chest." The list is by no means complete, and you are sure to find many more unwanted things around your home that you can add to it. Store your supplies in a box, cabinet, or closet provided for that purpose. You will soon have a real storehouse of "treasures" from which you can create many new and wonderful things.
boxes of all shapes and sizes
cartons of all shapes and sizes
containers of all shapes and sizes
sliding drawer match
boxes
linings of Christmas
envelopes
copper wire cleansing pads
bits of broken costume jewelry
dry flowers and grasses seed
catalogue pictures
paper drinking cups
milk bottle tops
odd shaped bottles
corrugated paper
decorative braids and tapes
pressed paper trays
paper towel cylinders
mailing tubes
paper bags
toilet tissue cylinders
pine cones
lace paper doilies
beads and buttons
imitation jewels and sequins
stones
string and cord
Christmas cords
corks
laundry cardboards
electric wire
construction paper
bits of candles
colorful magazines
wire
pictures
hairpins
gift wrapping
paper
yarns
garment bags
nut cups
metallic papers
paper towels
freezer paper
cotton
waxed paper
ribbon
buttons
coat hangers
tissue paper
paper plates
lollipop sticks
spools
embroidery thread
ice cream spoons
colored papers
feathers
driftwood
threads
tin foil
marbles
stickers
laces
inner tubes
sand
bits of fabric
old gloves
toothbrushes
felt
steel wool
rubber bands
cigar boxes
newspapers
fringe
clothespins
sponges
old sheeting
wall paper
leather
plastic bags
crepe paper
CRAFTS MATERIALS TO BUY

You will need certain materials for your arts and crafts projects that may not be found around the house, and that you should purchase. Fortunately, these items are not expensive, so the better quality should be bought, as they will last longer and prove more economical in the end.
brushes
glue
paints
glue / paste
wax crayons
compass
colored and white chalks
ruler

shellac
self-hardening clay
varnish
moist clay eraser
Scotch tape
CARING FOR YOUR TREASURE CHEST OF SUPPLIES

Learn to take care of your supplies so that they will always be in readiness when you need them. Brushes, tools and work tables should always be cleaned after using. Paints, pastes, and other bottled materials should be kept in closed, airtight containers when not in use. Learn to be economical. Save pieces of crayon and chalk as you will surely find a use for them.