Home > Arts and Crafts Projects > Easter Crafts > How to Make Easter Egg Dolls
HOW TO MAKE EASTER EGG DOLLS : Easter Crafts for Kids & Teens
You don't have to wait for Easter to come around to make these egg dolls. This is a good craft for sleepovers...the kids can make their hard boiled eggs into a doll before they eat them. Or your children can make these for dinner guests and people will be so surprised to see that they can eat their doll's faces (this will be very silly to every one). Have fun making these...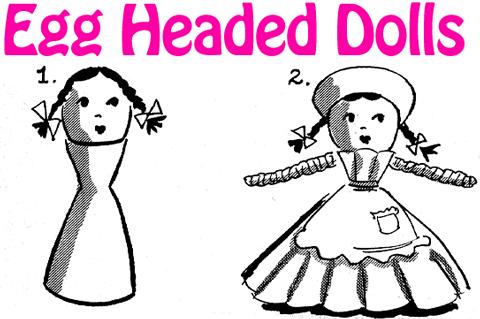 CRAFTS MATERIALS NEEDED:

Eggs
Egg Cups
Paint
Crepe Paper or Yarn (for Hair)
Ribbon (if you want bows)
Glue or Paste
Other Decorative items
How to Make Them:

Have mom or dad hard boil an egg. Then after it cools you can use it for this craft. Paint on features and freckles, and allow to dry. Glue on braided crepe paper hair and tie ends of braids with bows. Place in tall egg cup, as in Figure 1. Gather a strip of crepe paper around cup and tie in middle. Add crepe paper apron and bonnet. Add pipe cleaner arms, as in Figure 2.
If you make a bunch of these, you can set one in front of each guest and they will all have a good giggle when they find out the doll is an actual egg that they can eat. This would also make a good craft for your friends when they come over for sleep overs.