Home > Arts and Crafts Projects > Egg Shell Crafts >How to Make Egg Shell Gardens
HOW TO MAKE EGG SHELL GARDENS : Easter Crafts for Kids & Teens
Here is a different gardening idea that sounds sort of silly from a child's perspective. How about planting a flower or plant garden inside egg shells? Well it isn't any different than using little flower pots, but it is a great way to use the part of the egg that normally would turn up in the trash...so it is a form of upcycling. These will look beautiful on your deck or terrace. Have fun with this garden project.

CRAFTS MATERIALS NEEDED:
Eggs
Soil
Flowers or Plant Seeds
Muffin Tin
How to Make Them:

First, prepare your Easter eggs as normal by piercing each end of an uncooked egg with a needle or pin. Blow through the hole at one end of the egg, catching the contents in a bowl. You can then use those contents to cook and then eat. If there is difficulty in blowing eggs, make the hole a little bit larger.

Cut off top of large blown egg with sharp pointed scissors, as in Figure 1. Fill egg shells with soil and plant garden seeds. Place egg shells in a muffin tin, as in Figure 2. Pour water in tin around shells. Water will soak through shells and nourish plants.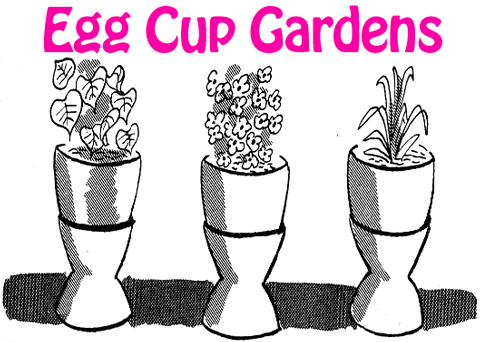 Or you can make these egg cup gardens. Have mom or dad cut off top of large egg with sharp pointed scissors, and remove contents. Wash, dry and then tint or paint shells. Place shells in individual egg cups. Half fill shells with water and put in tiny flowers. Or half fill shells with soil and plant garden seeds.