Home > Arts and Crafts Projects > Foil Crafts > Foil Paper Angels
MAKING FOIL ANGELS : A Christmas Craft Project for Kids
This angel decoration can be used as a tree ornament, favor, or table decoration. Learn how to cut and fold these foil angels for a really snazzy Christmas decoration.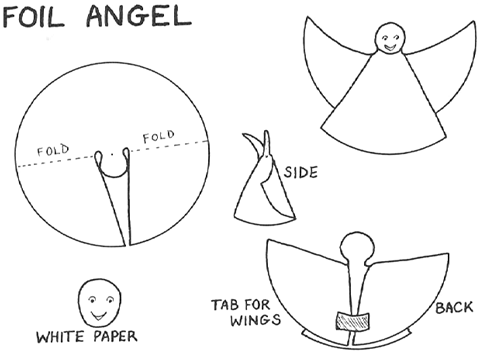 CRAFTS MATERIALS NEEDED:
pencil
scissors
foil paper
cardboard
glue
paints
if used as a tree ornament, string
HOW TO MAKE FOIL PAPER ENGRAVINGS:

Make a master pattern of cardboard according to the illustration, and have the children trace around the pattern. Draw lines and cut on the foil side of the paper, for cleaner cut edges. Cut a small circle of white paper for the angel face, and paint features on this with watercolors.
To make the wings curl slightly forward, roll the paper over a round pencil toward the front. The paper will tend to follow this roll and the wings will have a graceful bend.
Set the angel on a fiat surface when fastening the back with a tab of paper, so that it will stand straight when finished.