Home > Arts and Crafts Projects >Leather Crafts> Leather Belt Loop Wallet Purse
MAKING LEATHER BELT LOOP & KEY CHAIN WALLET PURSES : Leather Summer Camp Crafts for Kids & Teens
The hook on this purse can be used to attach to a belt loop or key chain. I have used one for several years as a key tag, and keep a folded bill in it for emergencies. The leather loop for the hook is still as strong as the day it was made. This is a great Summer camp craft and makes an even better gift for mom or dad or grandma or grandpa. You could even make it for a sister or brother. Here is how you make these great purses / wallets.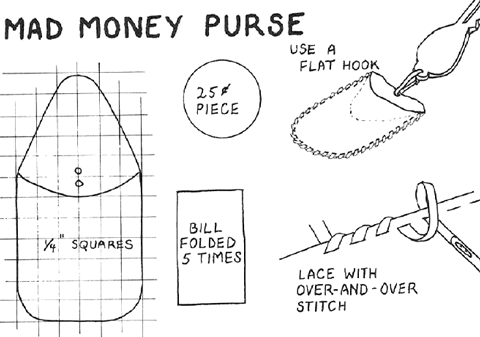 CRAFTS MATERIALS NEEDED:
cement
lacing needle
mallet
pencil
scissors
slit punch
square
cardboard
glove leather
leather lacing
lanyard hook

How to Make Them:

Make a cardboard pattern of both pieces; trace on the leather, and cut with scissors. Fasten the side and bottom edges together with cement, slit-punch the holes, and lace with over-and-over stitch. Cement the loose lacing ends inside. Attach a lanyard hook, of the style illustrated, through the two small holes at the top of the purse. Fold the flap and tuck it in, along with the contents. The flap will stay put until pulled out.