Home > Arts and Crafts Projects > Leather Crafts > Leather Rings
MAKING LEATHER RINGS : Jewelry Making Crafts for Kids & Teens
A ring of leather will take much less time to complete than a wooden ring, although it does need drying time before it can be fitted, cemented, and polished. These leather rings turn out fabulously, and can be work by both boys and girls alike. This is a great idea for a terrific Summer Camp craft. This craft requires parental assitance and supervision.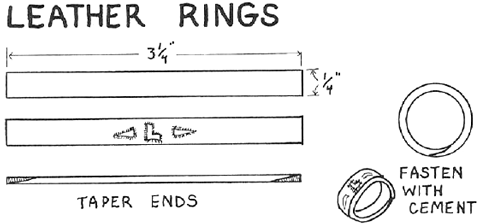 CRAFTS MATERIALS NEEDED:
leather knife tool
modeling tool
pencil
carving cowhide
cement
shoe polish
rags
How to Make Them:

(Parental Assistance and Supervision Required) Cut the ring blanks 3 1/4 inches long, out of strips 3/8 inch wide. This size will fit most children. If working with big eleven- and twelve-year-olds, cut the blanks 1/4 inch longer.
Wet but do not soak the leather. This is necessary to soften the leather so that it can be carved and modeled. Start with the center of the blank, and decorate the middle inch, the only portion that will be visible when the ring is on the finger.
Because of the small space, keep the design simple and bold, such as one initial, or a geometric flower. (Have adult do this part or supervise child) Cut the outline with the point of the leather knife tool, and push down the background with the modeling tool. Dry the blank flat.
When dry, taper the ends of the blank, so that the joint at the back of the finger will be smooth. Fit the ring on the finger and mark the overlap point with a pencil. If the overlap exceeds 3/8 inch, trim the excess and retaper. Fasten the overlap with cement.
To finish, apply shoe polish on the outside and edges and rub well with a rag. The dark polish will stay in the cuts and depressions, and the designs will be polished to a high gloss. If wool rags are available, these will give an extra high finishing polish.