Home > Arts and Crafts Projects > Crafts with Milk Cartons >How to Make Shoebox Fencing Aiming Practice Toy
HOW TO MAKE MOVIE THEATER SHOWS with a MILK CARTON : Arts & Crafts for Kids & Teens
This is a silly craft but it is a lot of fun to play with afterwards, and it isn't too difficult to make. This is a good craft for kids who like comic strips and movies. After you make this make-believe movie theater you will need a friend to be the moving picture operator while you are the audience. Then he can be the audience and you are the operator.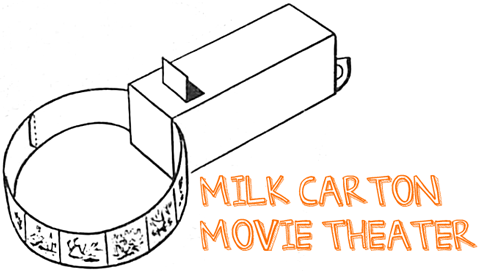 CRAFTS MATERIALS NEEDED:
Flat-top milk carton
Cardboard
Strips of newspaper comics
Scissors
Glue or paste

How to Make Them:

(1) Rinse out an empty flat-top milk carton and allow it to dry thoroughly.
(2) Lay the carton on the table with the pouring spout at the lower left hand corner. With one blade of the scissors, on the end opposite of the pouring spout, cut slots on the left and right sides of the carton, as close to the base as possible.
(3) Glue cut-out comic pictures in continuous order, to a narrow strip of cardboard that will fit in the slots. Push the front end of the comic strip through the slots with the picture side facing into the carton. Glue the ends of the strip together to make a continuous circle.
(4) Cut a small flap in the top of the carton. Raise the flap to let in light, and your picture show is ready to begin.
First, you be the audience and look through the spout opening at the lower left hand corner, as your friend moves the pictures, then change places.
Here are Even More Crafts with Milk Cartons