Home > Arts and Crafts Projects > Crafts with Milk Cartons >How to Make Milk Carton Windmills
HOW TO MAKE SPINNING MILK CARTON WINDMILLS : Arts & Crafts for Kids & Teens
Any boy or girl can make this little windmill that will really spin around in the breeze. These turn out beautifully and would make a great addition to any backyard. Hang it in your favorite tree and just watch it dance and spin. This isn't a wind sock but it really acts similarly...to find out how to make these, check out the directions below.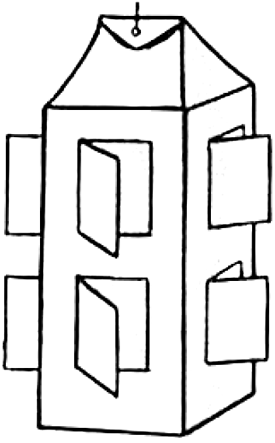 CRAFTS MATERIALS NEEDED:
Peaked-top milk carton
Paints & brush
Scissors
String
Soap or Liquid detergent
Nail

How to Make Them:

(1) On each side of the container, cut 2 door-shaped pieces with a pair of scissors.
(2) Bend the door back slightly.
(3) To paint the windmill, dip a wet brush in a liquid detergent or rub it on a piece of soap or raw potato before dipping it into the paint. This will prevent the paint from "slipping" off the waxed surface of the carton. Paint the windmill and allow it to dry thoroughly.
(4) With a nail, make a small hole in the center of the peaked fold of the carton. Pull a piece of string thru the hole and hang the windmill on a clothes line, a tree limb, or in front of an open window and watch it spin around.

Here are Even More Crafts with Milk Cartons