Home > Arts and Crafts Projects > Buildings & Town Crafts > Wooden Toy Viking Ship Model
MAKING MODEL GHOST TOWN CRAFT : How to Make Cardboard Ghost Town with Saloon, Tepees, Cabins
For all of these buildings, paper will be saved if it is cut into pieces roughly the size to be used, instead of being put out on the table in large sheets. For reasons unfathomable, most children will take a large sheet of paper and cut something out of the center instead of near an edge.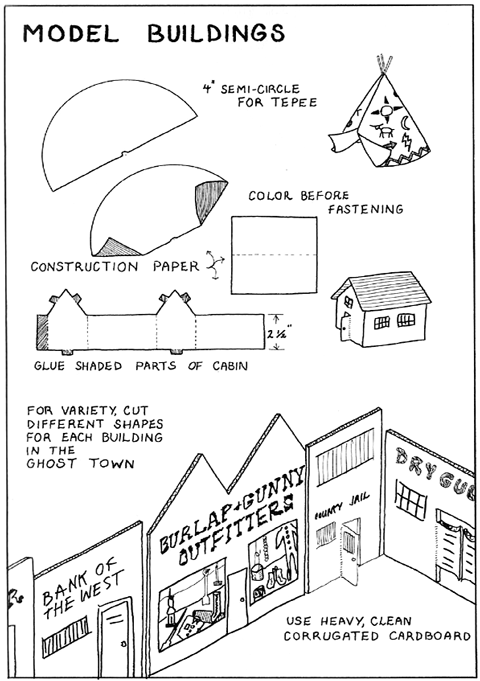 Materials Needed:
drawing compass
glue
pencil
ruler
scissors
paper
cardboard
toothpicks
crayons
TEPEES:

These can be made as individual projects, or many can be made to construct a tepee village. They are also good for combining with model cabins for a pioneer village. Toothpick and pipecleaner figures can be added to complete the picture.
Use construction paper in colors, brown wrapping paper, or a paper of a similar weight. Make patterns out of cardboard for children to trace around. The size can vary from 3 to 8 inches in diameter, depending on the use. A village would need the smaller size. Do not make them too small, or younger children will have a hard time putting them together.
The crayon designs are put on before the tepee is glued. Bend the tabs in (these are for fastening on a table top for a village and are omitted for individual tepees), and glue the fronts together. Hold for a minute, to make sure the glue is set. Put glue on the ends of three toothpicks and poke these down the smokehole to look like poles. Keep the tepee on its side until the glue is set.
MODEL CABINS AND GHOST TOWN

TV westerns will give the children plenty of inspiration for a tabletop ghost town. Use thumbtacks to fasten the falsefront buildings to the edge of the table.
Needed: knife, pencil, square, thumbtacks, corrugated cardboard, and poster paints.
Cut the building blanks out of corrugated cardboard, at least 8 inches wide and 12 inches high. Vary the sizes and shapes somewhat, for variety. Don't make the sizes too dissimilar, or there will be a grab for the biggest ones. Use poster paints, which have good covering property, and paint on the reverse, or side which has no printing on it. Sometimes the spots with printing ink are slick from the type of ink used, and the paint slides off.
Some preliminary planning is necessary, to avoid ending with six saloons, two jails, and nothing else. Some of the possibilities are: hotel, assay office, town marshal, grocer, dry goods, saddle and harness maker, miners' outfitter, clothier, stable, and bank.