Home > Arts and Crafts Projects > Mosaic Crafts > Making Mosaic Boxes & Tiles
MAKING MOSAIC BOXES & TILES : Mosaic Arts & Crafts for Kids and Teens
Making mosaics are all about taking small bits and pieces of items and putting them together in an artistic way to make a design or a picture of these pieces. They turn out beautifully and people and civilizations have been making them for thousands of years. Today we will show you how to make mosaic covered cardboard boxes as well as seed covered cardboard to make mosaic tiles out of them. These come out looking very snazzy...and I know you will love them.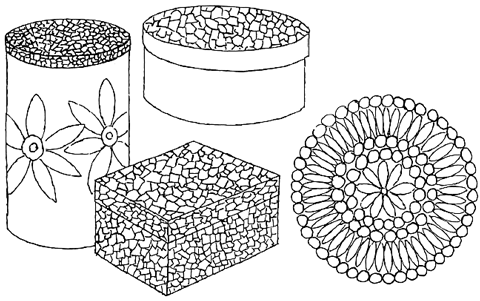 CRAFTS MATERIALS NEEDED:
Cardboard Box
Glue or Rubber Cement
Colored Paper, Foil, or Confetti
Waxed Paper
Colorless Shellac
Pumpkin or Melon Seeds

HOW TO MAKE THE MOSAIC BOXES

(1) Use any small cardboard box. Apply glue or rubber cement to surface where mosaic design is desired.
(2) Generously cover glue with bits of colored paper, foil or confetti. Press into place with waxed paper.
(3) When dry, apply two coats of colorless shellac allowing first coat to dry before applying second.
(4) Decorate the rest of the box with crayon or construction paper designs.
(5) Dyed melon or pumpkin seeds may be used for formal designs for box tops or tiles.
HOW TO MAKE CARDBOARD MOSAIC TILES


(1) For tiles cut a piece of cardboard to desired shape and size.
(2) After glue or rubber cement has been applied, place seeds close together in designs.
(3) Press into place and shellac as for paper mosaic.