Home > Arts and Crafts Projects > Horse Crafts > Paper Bag Hobby Horses
HOW TO MAKE PAPER BAG HEADED HOBBY HORSES : Making Ride-on Horses Crafts for Kids and Teens
Alright cowboys and cowgirls out there...here is the craft you have been waiting for. You have been a cowboy / cowgirl for your entire life but you've never had a horse to ride. Well here is a craft that will take that problem away...with this craft you will make our own ride-on toy horses...they are called hobby horses. You will find the directions below...Have fun riding your new horse! Here are Even More Horse Crafts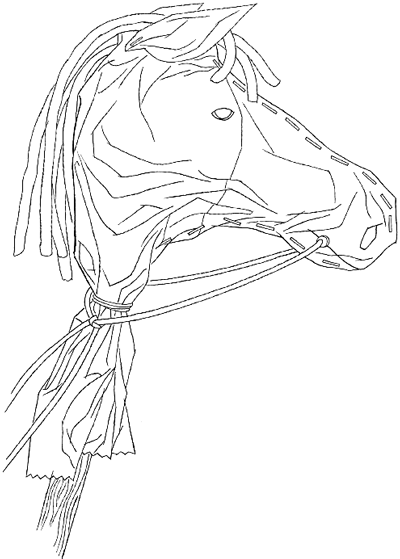 CRAFTS MATERIALS NEEDED:
1. Large Brown Paper Bag
2. String
3. Yarn
4. Stick (a broom or mop stick would work great)
5. Drawing Items (Such as pencils, colored pencils, crayons, markers, etc.)
6. Scissors
7. Stapler or Needle and Thread
8. Paper
9. Optional (other items to decorate the horse)

HOW TO MAKE IT:

A simple, attractive hobby horse can be made from one large paper bag, string, wool or cotton yarn and a stick.
1. On one long folded side of the bag draw the outline of a horse's head minus the ears.
2. Cut, sew or staple the edges.
3. With crayon or paint, make the face.
4. At the mouth punch holes for string reins.
5. Cut a pair of ears and staple onto the head.
6. Staple on cotton yarn or wool mane.
7. Stuff the head with crumpled paper mostly at the top of the head.
8. Lastly, tie the head on a three-foot stick or pole at the neck. Add reins from the holes at the mouth to the proper place on the pole. This horse lends itself to use in rhythms, creative play and dramatizations.
Here are Even More Horse Crafts