Home > Arts and Crafts Projects > Jewelry Crafts > Decorative Pins > Plaster of Paris Decorative Pins
MAKING PLASTER OF PARIS DECORATIVE PINS : Jewelry Making Crafts for Kids & Teens
There is something about plaster of paris that appeals to children. It is probably the magic of seeing a sloppy paste harden into a fixed form before their eyes that holds much of the appeal. Either way, you are about to make a beautiful decorative pin that you will love forever. Better yet, you can make it for Mom or Grandma or a best friend. Have fun.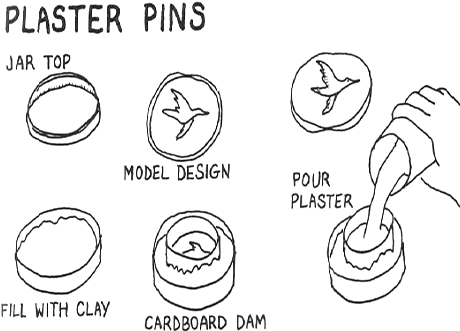 CRAFTS MATERIALS NEEDED:
knife (for adult to use)
modeling tool
modeling clay
mailing tube
jar tops or cardboard
quick-set plaster of paris
safety pins
watercolors
How to Make Them:

Put an egg-sized lump of clay in a jar top or on a piece of cardboard, and smooth it down so that it is about 1/4 inch thick. Incise a design in the center with a modeling tool, and keep the lines simple. Cut a 1/2-inch section from a mailing tube and push this into the clay around the design, to act as a dam for the plaster.
Mix plaster of paris to a pea soup consistency, and pour this into the design, stopping about 1/16 inch below the top of the cardboard dam. To fix the pinback, lower a safety pin into the plaster and support it by slipping a strip of cardboard through the pin and resting this on the edges of the cardboard dam. Otherwise, the pin will sink out of sight.
Quick-set plaster of paris will be set enough to remove in less than half an hour. To get the pin out, lift out the cardboard dam and plaster, and push gently on the plaster to ease it out of the dam. Peel off any adhering modeling clay. Paint with watercolors. Ask an adult to assist you with trimming any rough edges from the pin with a knife.