SEWING ON WINDOW SCREENS with YARN : A CRAFT PROJECT FOR KIDS
Here is a great art project, that is both fun and beautiful! Sew pictures directly on an old window screen!
Home > Arts and Crafts Projects > Fabric Crafts > Sewing on Ordinary Window Screens with Yarn
Below you will find an illustrated tutorial on how to sew on old window screens. Turn an old, ugly screen into a work of art!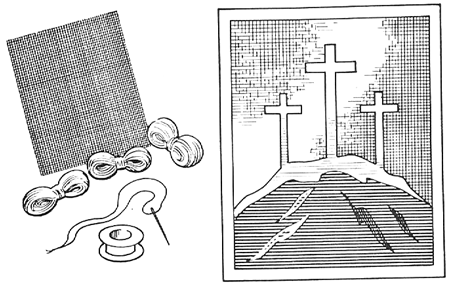 You don't have to make the pattern above...this sewing craft is to make an art picture by sewing yarn into a window's screen. Make any picture that you desire. You will need a piece of wire screen (from hardware store), tape to close off the edges, yarn, and a blunt darning needle. Now start off by binding the edges of the window screen with the tape. Now take the color of yarn that you want and then thread the darning needle and then sew / stitch a beautiful picture from your imagination.