Home > Arts and Crafts Projects > Musical Instruments Crafts> Drum Crafts > Wooden Bowl Drums with Drumsticks
HOW TO MAKE WOODEN BOWL DRUMS & DRUMSTICKS : Musical Instrument Making Crafts for Kids & Teens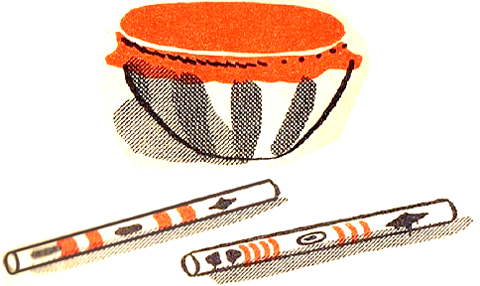 Tap Tap Tap...there goes your foot again. Tap Tap Tap ... uh oh, now I'm tapping my fingers. I need to get all this rhythm out in a productive way...I know...I'll make a drum. Well, then you are in luck, because today's craft is to make a drum out of a wooden bowl, tacks, and an inner tube. And the drumsticks are just simple wooden dowels painted with a fun design. Have fun!
Crafts Materials Needed for Wooden Drums:

Wooden bowl
8" dowel
Inner tube
Tacks (or rubberband)
Paints
Shellac
Hand drill
How to Make Wooden Drums: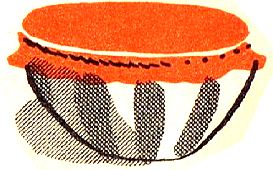 1. Shellac bowl and allow to dry. An adult should drill two holes, finger-sized, through bottom for holding. Paint and decorate bowl and allow to dry.
2. An adult should cut open inner tube. Cut circle of inner tube, 2" larger than diameter of the bowl. pLace rubber circle over face of bowl. If you have a rubber band large enough, you should slip over inner tube and bowl to hold in place. Otherwise, an adult should use tacks to hold the innertube circle tightly over face of bowl.
How to Make the Drumsticks

These are easy to make. There is nothing really to explain to you other than to paint a design on the dowels. Let dry completely and then use as drumsticks with your wooden bowl drums.