Home > Arts and Crafts Projects for Kids > Bandana Crafts
BANDANA CRAFTS FOR KIDS: How to recycle and make cool stuff with bandanas with the following arts and crafts decorations, instructions, patterns, and activities for children, preschoolers, teens
Bandanas are kerchiefs that women (and some times men) wear around their head and hair. Sometimes women use it to cover their hair for religioius reasons, other women use it to keep hair out of food, and others use it as a hair accessory. Either way, if you have some extra bandanas around the house, then you might like this collection of crafts that you can make with them.
How about making a tote bag or purse out of 2 bandanas. If you visit this site regularly, you know that once we made a tote bag out of a t-shirt by cutting slits in the bottom of the t-shirt, then tying both sides together with the t-shirt strips. Well, this is the same sort of thing that we can do with 2 kerchiefs. Cut slits along 3 sides of each bandana. Then tie the 2 pieces together. Take a ribbon or shoe string to use for the bag's strap. This is a great no-sew project .If you like sewing, you might want to use needle and thread to make this nifty bag.
A great classroom or camp project is to make a quilt out of bandanas. Ask every student or camper to bring in a colorful bandana. Then everyone will help sew them all together. You can then sew or paint on letters and numbers to write something about the class or camp session....such as Camp Louise, Bunk #12, 2011 ... or something like this. This is a great way to have fun in large groups.
Another classroom / camp project idea would be to make a giant checkers game board by sewing together 64 bandanas that are red and white and black and white. Then to play a giant game of checkers, one team dresses in red t-shirts and the other team dresses in black t-shirts. You can then play the hugest game of checkers ever.
Make a Bandana Apron Sewing Craft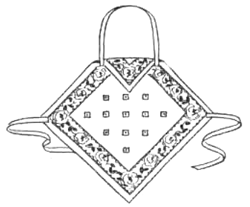 This is the simplest kind of apron to make, and your girls will enjoy making it and wearing it. They might even make a smaller version for their doll. For the sample picture above we used a bandana from a dollar store. You will also need 2 yards of cotton tape. Turn back one corner of the bandana, as shown in the picture above. Cut off 1/2 yard of tape, and fasten the ends at each edge of the fold to form the part to go over the head. Cut the remaining tape in half, and sew one end of each piece to the two side points, as shown. These will tie in the back. Cut the unsewn end of tape diagonally, so it will not fray. This apron can be made from any washable cotton fabric that has no right or wrong side. You'll need about 1/2 square yard. If you have a sewing machine, turn the fabric in twice around the four edges and stitch. Or make a narrow hem by hand all the way round the four sides. Then add the tape.
Make Bandana Purses or Mini Drawstring Bags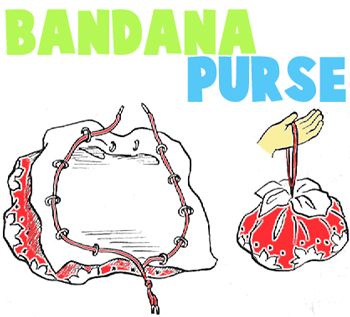 To make this bandana purse (a bandana is also sometimes called a hair scarf), you will need One 24" bandanna, 24 small metal or white bone rings (or other type of ring loops), needle and thread, 1 pair white 27" shoestrings, and scissors. Sew rings on wrong side of one bandanna in a circle about 5" apart, starting approximately 1" from sides. From two opposite corners, run shoestrings through rings and tie. That was probably a lot easier than you thought it would be...wasn't it?!

Make a Gift Wrap Princess Hat - Make this adorable princess hat with a scarf / bandana and wrapping paper.