Home > Arts and Crafts Projects for Kids > Make Basketball Ideas & Crafts for Kids
BASKETBALL CRAFTS FOR KIDS: How to make Basketball Creations with the following arts and crafts decorations, instructions, patterns, and activities for children, teens, and preschoolers
Basketball is one of the world's most popular and widely played and view sports in the world. Basketball themed crafts are popular among children, especially during NBA and WNBA playoffs. There are quite a few crafts you can make using recycled materials and other inexpensive materials.
You can make a simple home-made salt dough basketball magnet from salt dough which is very easy to make using 1 part salt, 2 parts flour and 1 part water. Then preheat your oven to 250F and roll the dough into small balls and flatten the balls on cookie sheet and place in the oven and bake for about 2 and 1/2 hours. Remove and allow it to cool then paint with acrylic orange paint. When completely dry use a sharpie marker to draw the lines and finally glue on a magnet on the back. You can use these magnets to decorate your school locker or refrigerator.
Another cool idea is to make a basketball collage from back and orange tissue paper or streamer. Just glue the tissue paper on to a white piece of paper creating a basketball design. Take your time so you can cover all the black lines on the ball.
PAPER CUP BASKETBALL GAME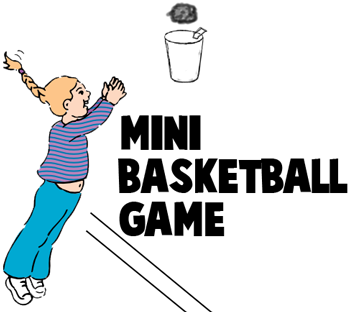 This miniature basketball game is a lot of fun to play with a good friend. Tape a paper cup to the wall, just a little bit out of the player's reach. Cut off about one inch of the bottom of the cup. An ideal ball can be made by crumpling a piece of aluminum foil until it is the size of a large marble—round, but not too firmly packed. "Shoot" for the "basket" from a few feet away.
Even More Basketball Crafts

Basketball Buddy - This is an easy baseball paper craft for kids.

Basketball Mache - This is an easy and fun ball decoration.

Basketball Paper Craft - Here is a paper doll and paper clothes craft for kids.

Basketball Wreath - This is a fun and simple paper basketball wreath craft for kids.