Home > Arts and Crafts Projects for Kids > Bells Crafts for Children
BELL CRAFTS FOR KIDS : Ideas for Arts & Crafts Activity to make your own Bells with these easy Bell-project instructions, and ideas for children, teens, and preschoolers
Ding Dong...Ding Dong...Clang. Bells are so beautiful to look at and many of them make beautiful sounds. On Sundays, they ring from the nearest churches in town. On Christmas, you hear sleigh bells that make you think of Santa Clause. At school you hear bells to let you know when school is starting and ending. Bells are all around us and in our daily lives. So naturally you want to make your very own bells...or possibly you are on this page becuase you have some crafts bells and wonder what you can make with them. There are plenty of musical instruments that use bells ... or you can make wind chimes...there are so many options. Find some ideas for making bells or utilizing bells in your next craft. Have tons of fun!!
Mold Your Own Bell Papier Mache Craft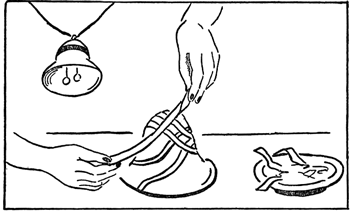 New Year's bells, Christmas bells, or wedding bells can be made over the same mold. To make this ornament, take a bell of desired size, or the mold of a bell such as you can make of clay, grease its outer surface well and then apply papier mache. This is done by applying 4 or 5 layers of newspaper strips one layer on top of the other. The strips of newspaper are about 1/2 " to I " wide and 3" to 4" long. They are dipped into a paste made of flower and water (one part flour to 2 parts water, mixing it together to form a paste like consistency ... but still runny and not quite as thick as paste). After this has dried, remove the bell, sandpaper it, and coat with silver or gold metallic paint. Inside, hang a clapper made of cranberries strung on a ribbon.
Making Decorative Bells from Disposable Drinking Cups
You can make a wide assortment of attractive and colorful holiday bells that can be hung from the branches of a Christmas tree, a fireplace mantel, or a window.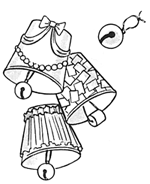 Either cut and paste colored paper or metal foil over flat-bottom drinking cups, or you may color the cups with brightly colored paints. Allow them to dry thoroughly. With a nail, punch 2 holes through the bottom of each cup and hang a bell or a bead on a piece of string or ribbon, so that it will hang below the cup for a clapper. Decorate the bells with paints, gummed stickers, paper ruffles, sequins, beads, or ribbon bows.
Even More Bell Making Projects for Children

Learn How to Make Jingle Bells - Learn how to make Jingling bells with baking cups with the following step by step lesson.

How to Make Wrist Bells - Learn how to make these wrist bells with ribbon and bells. A little bit of sewing is involved.