Home > Arts and Crafts Projects for Kids > How to Make Homemade Kaleidoscopes, Telescopes, and Binoculars Toys Making Crafts
KALEIDOSCOPES, TELESCOPES, AND BINOCULARS FOR KIDS TO MAKE : Making Your Own toys with the following instructions and activities for children, teens, and preschoolers
The following crafts are for Optical toys - toys that you use your eyes for. What kid doesn't love Binoculars, Kaleidoscopes, and Telescopes.They are so much fun to look through and to see things look much bigger thru them is so much fun. And Kaleidoscopes might be the most fun of all of these! With Kaleidoscopes, you see everything in fractal designs and everything looks so cool when you're looking thru them. With Telescopes, you look thru a long tube to see far distances. All of these will be pretend-play optical toys, but they are so much fun to make and even more fun to play with. Have fun crafting these eye-using toys!
How to Make Homemade Toy Binoculars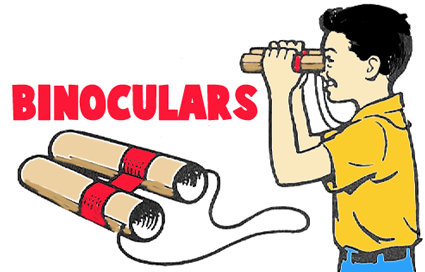 This is a very easy craft to make and a lot of fun to play pretend with afterwards. Just attach 2 cardboard tubes together with duct tape so that they are about 1/2" - 1" apart, just like your eyes. Poke holes on the outer side of each tube (at the end). Use a 25" long string and put in the holes and tie knots on the inside of the tubes to keep them from falling out. Now you can hold your binoculars around your neck.
How to Make Telescopes with Thread Spools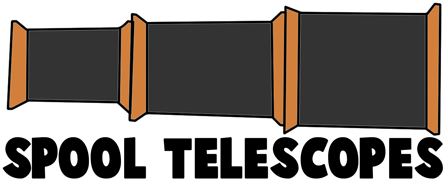 Do you want to make a toy telescope to play with when you are pretending you are a pirate or an astronaut? Here is a very easy craft to make. You will need 3 empty thread spools...one big spool, one medium sized spool, and one small spool. Ask an adult to hot glue them together so that they look like the telescope in the picture above. Then Paint the centers black and the edges brown to look like a real old-fashioned telescope. Have fun playing with your new toy.
Making a Simple Kaleidoscope Toy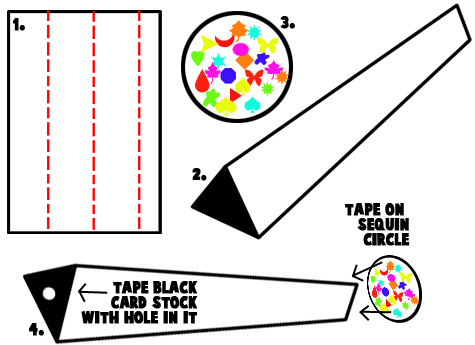 This is a pretty simple craft to make your very own Kaleidoscope toy. Start off with card stock or cereal box cardboard. Fold into four sections...3 large and one smallish, as seen in picture #1 above. Then paste or tape together into a long triangle, like seen in picture #2 above. Then cut 2 clear plastic bags into circles. On one of the plastic bag circles glue sequins and little colorful items (and maybe some glitter)...as seen in picture #3 above. Then glue the 2nd circle on top of the first circle. Let dry completely. Next use black card stock (or color card stock black) and cover one side of the long triangle with this card stock (tape it over top of one side). Poke a hole in it (as seen in picture #4.) On the other side of the long triangle tape the plastic circle. Now you have a simple Kaleidoscope toy ...enjoy!