Home > Arts and Crafts Projects for Kids > Easy Bird Houses, Feeders & Perches Making Crafts for Children
EASY BIRD FEEDERS, HOUSES, AND PERCHES MAKING CRAFTS FOR KIDS : How to make homemade bird houses with easy structure building instructions, ideas, and inspiration for children, teens, and preschoolers
Are you a bird-lover...do you sneak out to your porch or deck just to keep an eye on little birdies flying thru the air. Do you sneak a peak at birds that are nesting in your tree? Do you stare out the windows at school so you can look at the birds flying and playing outside? Then you are a bird lover. You can attract more birds to your backyard if you hang a bird feeder or birdhouse out there. It isn't as hard to do as it sounds...there are many crafts projects that even the youngest of chidlren can attempt to make. We have listed many birdhouses, perches, and bird feeders that you and your friends can make. Have fun!
Make Bird Feeders with Pinecones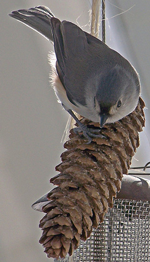 Bird Feeding Station Most practical is the bird feeding station made of a pine cone. Take some suet with grain seeds sprinkled in it and dip the cone into it. Allow it to harden and then hang it up in a tree upside down. When hung near the ends of the branches, the station is inaccessible to any creatures except birds.
Foil Pan Bird Feeders

Punch four holes near the ends of each side of an aluminum foil loaf cake pan. Remove the bottom bars of two wire coat hangers, leaving one inch at each end for a hook. Hang the feeder on the hooks and bend the hooks shut to fasten securely. Fill the feeder with wild bird food and hook it over a tree branch or clothesline.
Gourd Bird Feeders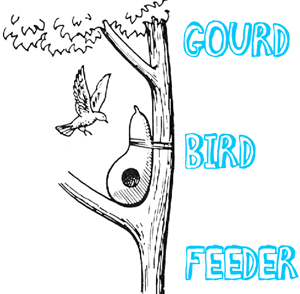 Find a gourd that is similar to the one pictured above. Before beginning, the outer skin of your gourd needs to be removed before you start painting. To remove the outer skin, soak your gourd in water for a few hours. Then you need to rub with sandpaper or a rough pot cleaner. Remove all of the rough spots. An adult will need to cut a hole in the gourd according to design above ... and clean it out. As you can see, the hole needs to be cut in the larger portion of the gourd, near the bottom of the gourd. After cutting and cleaning the gourd, you can paint on designs with enamel. When dry, give the gourd two coats of shellac. Ask an adult to wire the birdhouse to a tree.
Even More Bird Feeders Below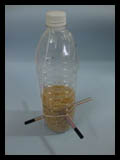 Plastic Bottle Bird Feeders - Find out how to make a bird feeder from recycled plastic bottles.

Wooden Tin Can Bird Houses - Learn how to combine a tin can with wood to make an amazing birdhouse. This is a great project to do with Mom or Dad, at woodshop, or at Summer Camp. Bird will love their new home.
You Might Also Like Bird Crafts