Home > Arts and Crafts Projects for Kids >Denim Blue Jeans Crafts
CRAFTS WITH JEANS FOR KIDS : Ideas for Arts & Crafts Activities to Make Cool Projects with Old Denim Blue Jeans for Children, Teens, and Preschoolers
I love jeans! I have a pair for every day of the week because they are comfortable and durable. You might not know this but jeans are made up of a material called denim. Denim jeans are sturdy and can put up with a lot of horseplay without tearing! This is what mothers love about them ... but I love them because they are perfect for making crafts out of. Since they are so sturdy and hard to tear, you can use the denim for the hardiest of crafts...and you can expect that they aren't going to tear or rip for a very long time. Find some of the best denim jean crafts below and get crafting!
Blue Jeans Travel Totes for Storage and Organization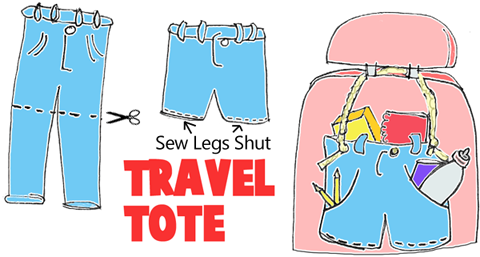 I made these for all 4 of my kids ... and they worked out amazingly. Not only are they great for storing all of their toys, arts and crafts supplies, but they are also great for hiding electronics when you go into a restaurant. They hold so much stuff. This is great for your family travel and very easy to make. Find some old jeans and then cut off the pants legs just above the knees. You can then either sew or use hot glue (with Mom or Dad helping you with this part) the legs shut. Now all that is left to do is to tie rope or twine onto 2 belt lops so there is enough rope to hang it over the seat in front of you when you are in the car. Have fun!!
How to Make a Garden Apron out of Denim Jeans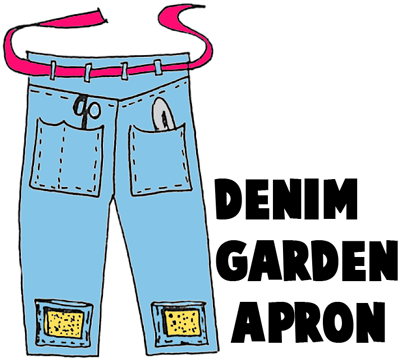 For the gardening hobbyist cut out the front of an old pair of denim jeans and cut off the legs just below the knees. Thread some ribbon through the belt loops at the waistband...this will be the apron's tie. Then stitch a plastic bag to each knee for sponge pads to make kneeling easier. You can use the jeans that you cut away to make pockets...just sew on pockets for garden tools.
More Denim Jeans Crafts Below

Denim Shark Pencil Pouches - Find out how to make these shark pencil holders out of denim and vinyl ... however you can use other fabrics if you want to (this is a sewing craft).

Denim Flower Clip Bookmarks - Learn how to make a cool looking bookmark that is really a paper clip. Paper clips make great bookmarks.