Home > Arts and Crafts Projects for Kids > Bubble Wrap Crafts for Children
BUBBLE WRAP CRAFTS FOR KIDS: Ideas for Arts & Crafts Projects & Activities with Bubble Wrap for Children, Teens, and Preschoolers
Bubble wrap (otherwise known as bubble pack or bubble paper) is a pliable transparent plastic material commonly used for packing fragile items. Regularly spaced, protruding air-filled hemispheres (bubbles) provide cushioning for fragile items.Bubble wrap can be used for more than packaging and making popping sounds. Children can make amazing crafts with it. They can use it with paint to make abstract art. They can also design a bubble fish by cutting out a fish shape from the bubble wrap then add paint and press it on a piece of construction paper (I recommend blue to match the ocean).
Children could also use the bubble wrap to make a noisy hopscotch game or make a mess free travel bingo game. There are endless possibilities with a little imagination.
How to Make a Bubble Wrap Gecko Picture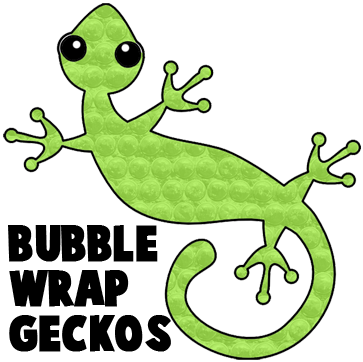 Here is a very easy craft to make with bubble wrap. First, print out the following gecko template. Then either cut it out and trace it onto green paper or color it in. Then trace the gecko onto bubble wrap and carefully cut it out. Attach the bubble wrap onto the green gecko with a little bit of tape. Then cut out black circles for eyes...glue it on where the eyes should go. You can also cut out a little white circle to go inside each eye.

No-Sew Bubble Wrap Pop Up Doll - Push it Down it Pops Back Up - Learn how to make a Romanian Doll, called a Hopa Mitica Doll. No Sewing Involved.

Bubble Wrap Advent Calendars - These are fun to make and easier to make. It is fun to pop each bubble as you countdown to Christmas Day.

13 Bubble Wrap Crafts for Kids - Here is a collection of 13 cool bubble wrap crafts for kids.