Home > Arts and Crafts Projects for Kids > Animals Crafts > Camel Crafts Arts and Crafts Projects Ideas for your Kids
CAMEL CRAFTS FOR KIDS: Make your own arts and crafts camels projects with the following decorations, instructions, patterns, and activities for children, teens, and preschoolers
A camel is an an animal that has humps on his back. One-humped camels usually live in the Middle East and Africa. And the two-humped camels usually live in Central Asia. Both are great working animals and are used to haul both people and heavy materials. Of course, camels are usually seen in nativity scenes so Christmas is a popular time for camel crafts. Below you will find camel crafts project ideas for your kids. Find out how to make your own arts and crafts camels projects with the following decorations, instructions, patterns, and activities for children who love the camel
Make a Camel Creation from Corks and Toothpicks and More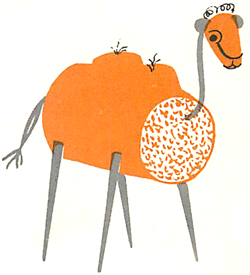 This Camel would be great on your room's desk or dresser. Get a cork....turn it on its side...on the top of it make 2 humps with cotton or some other material. Then wrap orange or yellow felt around it. The cotton should make 2 lumps on the top of the cork. Make a tail with yarn. Put a sire through the front of the cork and ont he other end put a smaller cork for the face. Draw on its face. If you want hair on it, use yarn. Felt would work great for the ears. And use toothpicks for the 4 legs. You now have a great camel creation as a room decoration.
How to Make Clothespin Camels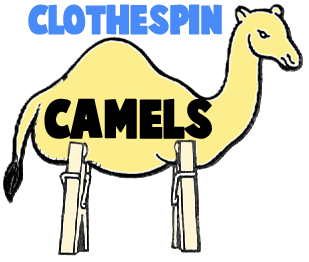 These standing camels are very easy to make. Firstly, print out either a black and white camel pattern or a color camel pattern. Then cut out the camel. Now just clip on clothespins and make the camel stand up.
Making Stand-Up Envelope Camels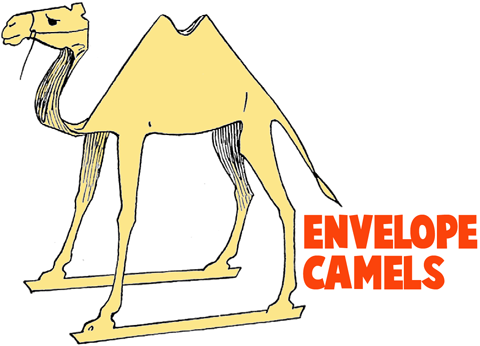 Here is a craft to make a paper camel model out of a mailing envelope. You will need a mailing envelope for this craft. Start this craft by printing out the following camel template. Either trace the camel onto the folded edge of a paper envelope or cut it out and paste it onto the folded edge of an envelope. Cut the camel out. Open it up and fold on the dotted lines so that the camel will stand.
How to Make Paper Camel Masks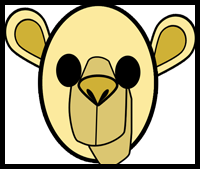 To make this paper camel mask just print out our camel mask template and follow the directions there.
Learn How to Draw Cartoon Camels
Learn how to draw cartoon camels with the above drawing tutorials...just pick the icon of the lesson you want to try.
Even More Camel Crafts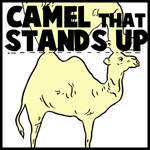 Camel Stand-Up Paper Toy Model to Print Out Craft for Kids - Today, we will show you how to make some stand up paper-figure animals. This one is a standing camel paper figure. You can choose a black and white version to color in, or you can choose the one that is already colorized. Either way … have fun.

Chenille Stem Bump Camels - Use a special type of pipe cleaners that have bumps in them to make these cool camels.
Go Back to Animal Crafts