Home > Arts and Crafts Projects for Kids > Candle Crafts for Kids
CANDLE CRAFTS FOR KIDS : Candlemaking Ideas for Arts & Crafts Projects & Activities with Candles for Children, Teens, and Preschoolers
Doing crafts with children has been a great way to beat the boredom from as long as I can remember, especially during the long summer break. If you are looking for something inexpensive and fun to do with your children, consider making beautiful candle holders and other candle themed projects such as recycling old candles into something beautiful.
You can make beautiful party decorations and also table centerpieces using candles. You can also make fake candles from toilet paper tubes and construction paper. Whether children work with actual candles or make replicas of candles, there are many creative candle craft options to choose from.

Gilded Candle Bowls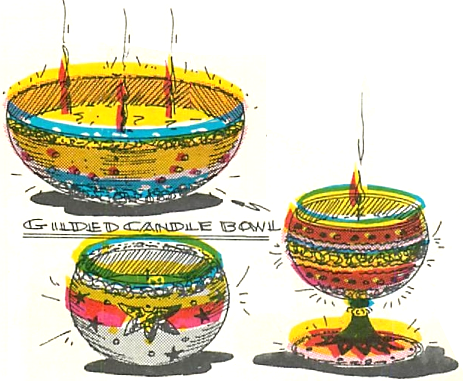 Here is a simple candle-making craft. Apply a heavy coat of gold paint or glue to the outside of a clear glass mixing bowl. Sprinkle gold glitter and sequins over the paint while it is still wet. With parental supervision, half fill the bowl with cooled paraffin, inserting three wicks.
Even More Candle Crafts

Make Halloween Jack-o-Lantern Candle Holder With an Old Teacup - Here is an easy to make, pretty Halloween Jack-o-Lantern candle holder that can brighten up your home this Halloween.

Making Milk Container Candles - Recycle old candles to make a very colorful candle that is molded in a milk container.

Sailboat Candle Holders - Learn how to make this sailboat Candle Holder.

How to Make a Thanksgiving Seeds Candle - Make this candle with seeds to put an Autumn/Fall spin to it.

Making a Decorated Candle Jar - Recycle / Upcycle a Jar into an upgraded Candle Jar.

Making Sweet Flowers Candle Holders - Learn how to make this candle holder with transparent paper and a recycled jar.

Multiple Candleholder Crafts - Learn how to make a few different types of candle holders.

Christmas Candle Arrangements - Learn how to create this Christmas Candle decoration.

Dipped Candles with Old Crayons - Make colorful crayons from old crayons. This is a craft that the parent will have to mostly work on as it is too dangerous for youngsters.