Home > Arts and Crafts Projects for Kids > Cases and Holders Making Crafts
CASE & HOLDER MAKING CRAFTS FOR KIDS : Make Arts & Crafts Cases with the following instructions, patterns, and activities for children, teens, and preschoolers
We all need cases & pouches to keep our most special items safe. Whether it is to hold our glasses, our marble collection, or our trading cards in, we all need a safe place to hold our prize possesions so that they don't get damaged or ruined. You don't need to run out to the store to buy an expensive case because there are simple ways to make a holder or purse with items fro around the house...such as plastic containers or cardboard paper towel rolls...where there is a will there is a way...and your holder will be amazing. Use your creativity and build upon our crafts to make a case that is very special to you.
How to Make Plastic Purses or Cases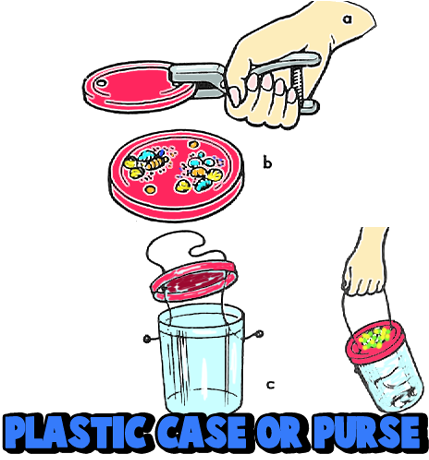 Start off by finding a pint-sized clear plastic container, like one that you find in a chinese soup container. Punch a hole on either end of the cap as seen in picture a. Then put lid on the container and push a hole 1/2" from the top edge, that correspond to where the lap hole is...see picture c. You can decorate the cap with shells, glitter, beads, or other decorative items by gluing them down as seen in picture b. Tie a knot in string, cord, or ribbon and pull it up thru side of container, then bottom of lid. Then push itdown thru the hole in the top of the lid and into the container and from inside of container push it through the container hole on the other side and then tie another knot. You now have a handle.
Making Carry All Totes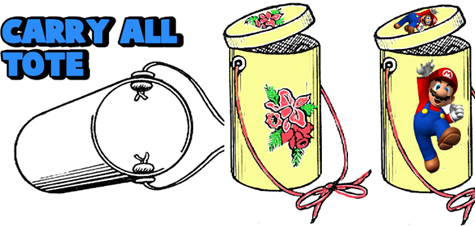 1 round or square box with lid, 1 shoestring, enough colored paper to cover box, flowers cut from magazines, paste, adhesive or masking tape, scissors, paper punch, 2 large beads or buttons, cretonne or wallpaper may also be used Procedure: Cover round or square box with colored paper and paste on colored designs, flowers, or pictures of your favorite cartoon characters, etc. Cover lid of box and hinge it to box with adhesive or masking tape so it will not become lost. Punch a hole in each side of box. Cut shoestring in half. To keep the box from tearing, tie a knot in the cut end of the shoestring, run a large bead or button on the string and then run string through the box hole from the inside. Add another bead or button and tie knot as close to box as possible. Tie shoestring ends together for handle. Children may also cover boxes with decorative paper, wallpaper, or plastic.
Even More Cases and Totes Below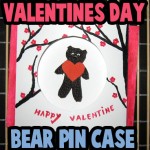 How to Make a Valentine Gift Box with a Bear Heart Brooch Pin Case Craft - First we made a Teddy Bear Heart Brooch Pin craft. Now we will make this jewelry case to hold this adorable Valentine's Day Bear Heart Brooch Pin.

Envelopes Coupon Case - This craft is made from envelopes that are looped together. This makes a perfect Mother's Day present for Moms who like to clip coupons.

Desk Supplies Tote - Make your very own desk supply tote by using yarn and a cardboard tube...find out the instructions by following the link to this crafts project.

Leather Pouches - Learn how to make a cell phone pouch with leather or vinyl or any other fabric.

Altoids Tin Emergency Kits - Make a pocket kit for your dad on Father's Day. It can be an emergency kit, a a camping kit, a fishing kit, a sewing kit, or whatever type of kit you want.

Ghosts Decorated Phone Pouches - Learn how to make a very easy step by step leather pouch decorated with a spooky ghost.

Leather Comb Cases - Learn how to make leather laced comb cases to carry your comb in. Great gift for Fathers Day.

Soda Bottle Apple Lunch Box - Learn how to make this cute apple case out of a recycled soda bottle.

Belt Loop & Key Chain Wallets - Put it on your belt loop or put it on your keychain...either way, it is great to keep some money tucked away. Make for Mom or Dad.

Teddy Bear Pencil Cases - Find out how to make these zippered, fabric pencil pouches.

Shark Pencil Pouches - Find out how to make these shark pencil holders out of denim and vinyl ... however you can use other fabrics if you want to (this is a sewing craft).