Home > Arts and Crafts Projects for Kids > Castle Crafts for Kids
CASTLES CRAFTS FOR KIDS: Ideas for Arts and Crafts Activities & Projects for Making Medieval Castles With the Following Instructions for Children, Teens, and Preschoolers
We have all wanted to be a princess, a prince, a Knight, a Queen, or a King before. We pictured ourselves up in a castle, being treated like royalty and having rule of the entire land ahead of us. It all sounded so romantic and even though our heads were up in the clouds, somehow it seemed real to us. Now that we have kids of our own, we see how they long to be princesses and knights, and we want to share that with them. How about building a toy castle with them...it will allow them to play out all their childhood fantasies and it will allow you to spend some one-on-one time with your child. This page is filled with castle-making crafts...enjoy!
Make Shoe Box Castles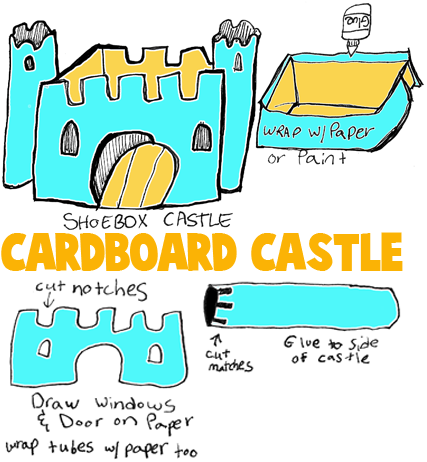 This is a great first-time-castle-making craft for beginners. Find a shoebox, some colored paper, a scissor, some cardboard tubes (paper towel or rolls), and some glue. Wrap and glue decorative paper or constructoin paper to a shoe box. You can also use paint if you would prefer. Then Cut notches (little rectangles) at the top of teh box. Also cut out half-circles or half-ovals for windows. Also wrap paper towel rolls with decorative paper or paint as well. Then cut notches int he top as well. Either glue to the side of the castle ....or cut a long notch at the bottom of the tube so you can slide it on the side of the box. For the door cut out a half-oval shape...leaving the bottom for a hinge. Now just oine thing left to do...PLAY!
Oatmeal Box Castles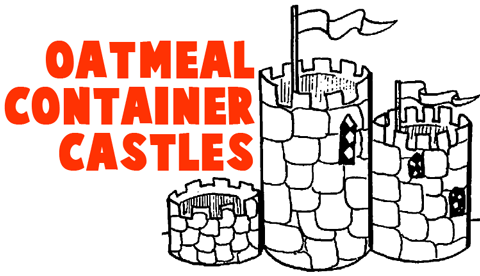 Oatmeal boxes are just the right shape for making medieval castle towers. You will need to collect a few oatmeal containers and then cut them all different sizes. Cut rectangle shapes out of the top of each of the oatmeal boxes for parapets. You can either cut out windows or you can paint them on. Pain stones all over the sides of each of your oatmeal boxes. You can then glue them all together to make it your medieval castle. You can make a flag with a toothpick and paper or fabric. Then just tape it to the inside of the boxes.
Even More Castle Making Crafts

Castle Pencil Holders - Make these castle pencil and pen holders with recycled cardboard tubes (paper towel rolls or toilet paper rolls).

Permanent Sand Castles - Make the structure of the castle with boxes & paper towel rolls or toilet paper rolls. Then you mix sand and glue together and paint it on the structure. You now have a forever-sand-castle.