Home > Arts and Crafts Projects for Kids > Animals Crafts > Bugs / Insects Crafts > Caterpillar Arts and Crafts Projects
CATERPILLAR CRAFTS FOR KIDS: Ideas to make caterpillars with easy arts and crafts activities for children, preschoolers, and teens
A caterpillar is a worm-like and often brightly colored and hairy or spiny larva of a butterfly or moth. According to Wikipedia, caterpillars are the larval form of members of the order Lepidoptera (the insect order comprising butterflies and moths).
Caterpillar crafts are popular among toddlers and preschoolers because they make exceptional educational crafts. For example, learning letters, numbers and colors.
You could make a number caterpillar from paper cups and construction paper or a caterpillar wall art with your child's name. This caterpillar can be made from wood or construction paper. Other popular ways to make caterpillars are from pom poms, socks, toilet paper rolls, egg cartons and balloons.

Egg Carton Caterpillars

Take an egg carton and cut the bottom half of the egg carton in half lengthwise so that you have one row of humps left. This will be the body of your caterpillar. Now turn the open side face down and the humps facing upwards. Paint the caterpillar green on the sides and orange on the top (or however you want to paint it - markers can be used as well). Let worm dry completely. Then cut a pipe cleaner in half and poke each pipe cleaner into the front of the body for the antennae. Use googly eyes or paint eyes on the caterpillar. Make your own artistic creations to make the caterpillar just the way you want it.
Fingerprint Caterpillars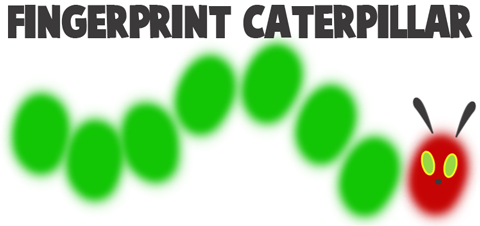 Make a caterpillar with fingerprints. You can make it any colors, but make them with green and red if you want the caterpillar to look like the one from The Hungry Caterpillar. Dip your finger in green paint or ink and stamp it on paper in a curved pattern. Put red on your finger and stamp it on paper for the head. Let dry completely. Then paint green oval eyes and black antennae and nose. Now you have a cute caterpillar picture.
Egg Carton Caterpillars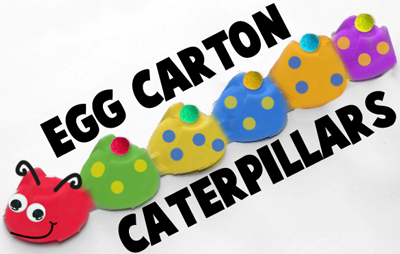 This is an adorable caterpillar and you can make it very easily. You will need an egg carton that holds a dozen eggs. Either you or an adult should cut it in half, so there are 6 egg cups right in a row, and still connected. Then use paint to color each egg cup a different color, as seen in the picture above. After the paint is dry, paint polka-dots all over the cups. Then let dry again. Glue one pom-pom on the top of each egg cup, except for the first cup. Poke 2 hole on the top of the first egg cup. Then cut a pipe cleaner in half and stick one in each hole for antennae. You can curve the pipe cleaners to make the look more realistic. Also add 2 googly eyes and with a black marker, draw a smile. There you have it, a cute and colorful caterpillar.