Home > Arts and Crafts Projects for Kids > Cellophane Crafts for Kids
CELLOPHANE CRAFTS FOR KIDS : Make Creative Arts and Crafts Projects with Cellophane with the following ideas, instructions, and activities for Children, Teens, and Preschoolers
Cellophane is a great packaging material but it is also a great craft material. You can buy cellophane in all sorts of beautiful colors. What makes cellophane truly unique is the transparent quality that it has and that lovely crinkely noise that it makes. You can totally fool people into thinking that you are making things out of clear plastic or glass, or even better yet stained glass. But really you are making the item out of cellophane, which is much easier to work with anyways. You can recycle the cellophane from packaged materials, and in that way you are repurposing and upcycling an item that would have just gone into a landfill. That is always a good thing. This page is filled with ideas for using cellophane in your crafts. Have fun crafting!
Making a Moving Picture Theater with Cellophane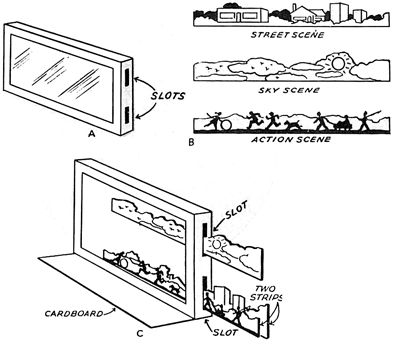 This is a new type of theater with which to entertain your friends. All you have to do to put on a "Moving Picture" show, is to move the shadow strips back and forth through the slots in the theater in front of a table lamp. Remove the cover from the shoe box and throw away the bottom as you will only need the cover. Cut a window in the shoe box cover, leaving a 1 inch border all around as a frame. Cut a piece of cellophane paper to fit, and glue it inside the frame. Make 2 two-inch slots, one near the top and one near the bottom, at each end of the cover close to the front of the frame, as in illustration A. To make the theater stand firmly, cut a wide strip of cardboard the length of the cover, and glue it to the bottom. To make the shadow pictures, cut out narrow strips of magazine or Internet illustrations with irregular skylines, and glue them to strips of construction paper. Make three separate strips. On one strip glue a sky scene showing a moon, stars, clouds, airplanes and birds. On the second strip glue a street scene showing buildings, trees, fences and lamp posts. On the third strip glue an action scene showing people and animals walking, running, jumping and playing, as in the three illustrations in B. Slide the sky scene strip into the top slots of the theater. Then, slide the two other scene strips into the bottom slots; the street scene strip as the background, and the action strip in front of it, as in illustration C. To make the shadow pictures move, place the theater in front of a table lamp, and with your hand, move the action strip back and forth.
Miniature Stage Peep Show Box with Cellophane Color Wheel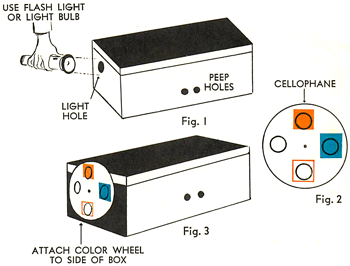 A peep show is a miniature stage setting inside a box. The scene is viewed by one person at a time through a pair of peep holes. We aren't going to tell you what to put on the stage, you will need to use your creativity to make your own show or diorama. Fig. I. In order to let the one-person-audience see the show there must be an opening through which light can fall upon the stage setting. Fig. I . To add beauty to the scene make a color wheel. Fig. 2. Attach to the side of the box so that it may be rotated over the light hole. Fig. 3.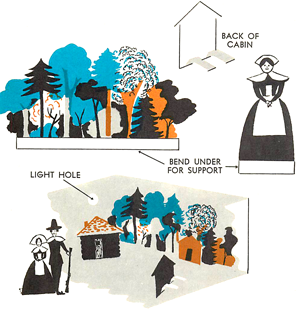 Line the inside of the box with paper, the color of which is appropriate for the scene. Use toy dolls and animals to represent characters, or small pictures of animals and persons cut from magazines and mounted upon cardboard bases, such as the Pilgrim figure shown here. Scenes from other lands, from favorite stories, or from history make excellent stage settings for peep shows. The one given here depicts the Pilgrims going to church.
How to Make Cellophane Icicle Hangers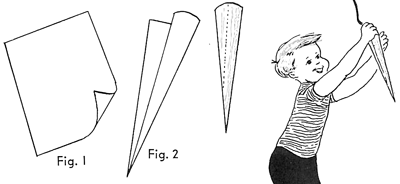 To make Winter icicles that really look like ice, cut a strip of cellophane that is about 9" x 2.5". Start rolling the piece of cellphane at the lower right hand corner, as seen in figure 1. Keep rolling the piece until it looks like the picture seen in figure 2. Glue the top end with Scotch tape. Use string or thread to hang these icicles from the ceiling or on an Xmas tree as pretty ornaments.
Make Noisy Cellophane Gloves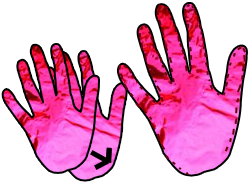 Gloves can easily be made from cellophane. The edges must be turned inwards and seamed together to prevent them from tearing. Cut two pieces out for each glove, using your hand for a pattern and making it a bit bigger than your hands. You can then use these cellophane gloves to make a lot of noise....and to be quite annoying. They make great gloves for costumes.
More Cellophane Crafts Ideas Below

How to Make Stained Glass Valentines Day Heart with Cellophane - Today we will show you how to make a faux (fake) stained glass window heart. It is so easy that I bet if you try one, you won't want to stop. When you tape these on your window, the beautiful sun shines through them and they look so beautiful. This is a wonderful decoration to celebrate the ones you love for Valentine's Day.

Cellophane Dancers - Make a dance studio with paper figures that jump and dance inside a cardboard box covered with cellophane.

Cellophane Covered Milk Carton Blocks - Learn how to make interlocking toy blocks with upcycled milk cartons. Use cellophane or tin foil to decorate the blocks in different colors and textures.

Making Miniature Gardens - These miniature faux gardens are so cute...you will need an Ice cube tray, popsicle sticks, twigs, craft paper, crepe paper, green cellophane paper/ transparent plastic, scissors, and tape.

Cellophane Origami Boats - Learn how to fold origami boats. Use Cellophane instead of paper to keep the boat afloat in the water.

Cellophane Strips Woven Belts or Bracelets - Learn how to wave little paper or cellophane strips together to make woven belts and bracelets.