Home > Arts and Crafts Projects for Kids > Animals Crafts > Chicken Crafts Arts and Crafts Projects Ideas for your Kids
CHICKEN & HEN & ROOSTER CRAFTS FOR KIDS: Make your own arts and crafts chickens, roosters, hens with the following projects and activities for children, teens, and preschoolers
Chickens are a very important birds, they give us a majority of our eggs as well as a good portion of the protein that we eat every day. Chickens lay eggs on a daily basis and are very important to our farming industry. Hens are the female chicken and Roosters are the male chicken. Roosters have been known to crow at the break of dawn. For many farmers, roosters are their alarm clocks...and this was definitely the way farmers used to wake up in past centuries.
Sometimes when hens lay eggs, little baby chicks are born. Little baby chicks are a good sign that Spring is coming...which is why many times people celebrate Easter by giving their children little baby chicks to foster. On this page, we have listed many exciting chicken crafts for you and your kids to make.
Making a Hen / Chicken Sitting on Her Eggs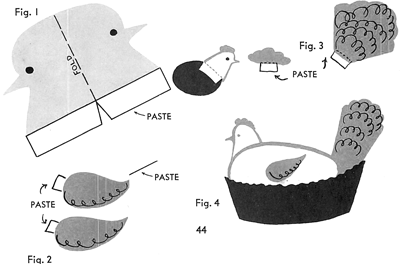 Use a half-filled balloon, a chocolate candy egg, or a Plastic Easter Egg for the chicken's body. Whatever you choose, it will need to fit inside a cupcake paper liner. Print out a chicken head outline here or draw your own chicken head. Cut this chicken head from felt or colored paper. Cut it double as seen above in figure 1 and then fill a little cotton inside the head to fill it out, as pictured in figure 1. You can glue or sew it shut. Paste in place on the chicken's body. Now cut 2 wings and a tail from felt or decorative paper, as seen in figure 2. Paste in place on the hen's body. Make a comb on the top of the hen's head from red felt or construction paper, as seen in figure 3. Paste in place on the hen's body. Fill the cupcake cup with small colored candied eggs if this is for a treat or cut out tiny little eggs from felt or colored paper if this isn't for a party treat. Then set the hen / chicken on the nest, as pictured in figure 4.
Make a Foldable Paper Craft Stand-Up Rooster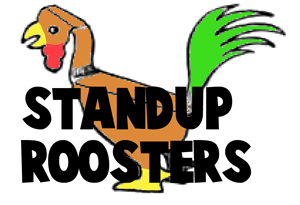 In order to make this standing roosters craft, all you will need is a printer, some printer paper, and a scissor. Here is the printable instructions / diagram. Just print that page out. Cut out the rooster. And bend on the lines within the diagram. It should then be able to stand up on its own. I hope it works well for you.
How to Make Paper Chicken Masks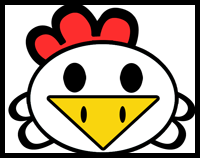 In order to make a chicken mask, first print out the following chicken mask template and follow the included directions.
Standing Chickens and Roosters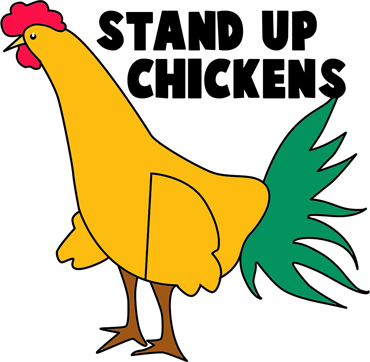 Print out the following paper chicken template. After you print out the template, cut it out and make sure to cut the slice where you see the dotted lines. Then put the legs on the chicken's body. Now the chicke should stand on its own.
More Chicken Crafts Below

Pinecone Chickens - Make a chicken from a pinecone, nuts, some paper, clay, and a feather.

Chicken Book Holder -Make a chicken bookholder to hold a recipe book up...it is made with a wire hanger.

How to Draw Cartoon Hens / Chickens - Learn how to draw this cartoon hen / chicken.

How to Draw Cartoon Hens - Learn how to draw cartoon hens.