Home > Arts and Crafts Projects for Kids > Crafts with Envelopes
CRAFTS WITH ENVELOPES FOR KIDS: Ideas for Arts & Crafts Projects & Activities Using Envelopes for Children, Teens, and Preschoolers
Envelope Baskets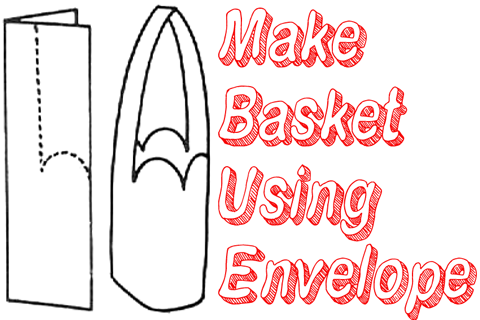 I bet you didn't know that you could make a basket with an envelope...well, you can...just follow these directions. Use One 9 1/2" x 4" envelope, 1 pencil, scissors, Scotch tape, crayons, and flowers. Seal flap shut and fold envelope in half lengthwise. Cut as indicated by dotted lines. (Vary the pattern as much as you wish.) Open the envelope and with your hand inside, flatten the bottom of the basket. Fold two side tabs under and hold in place with Scotch tape. Child may color basket before it is shaped. The teacher should bring flowers so that the child may put a few in his basket to take home as a gift to his mother.
Spinning Envelope Folder Files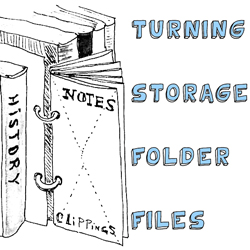 Envelopes can be pretty helpful when it comes to storage. You can keep things separate from each other and there is plenty of room for labeling. So this craft seems just natural to proceed to. This craft is perfect for making alphabetical reference envelope files for things such as pictures, coupons, bills, magazine articles you like, and office supplies. This way everything is right at your fingertips that you need. Start off by closing 6 or more envelopes. Hold each envelope up so it is standing the tall way, then slit open the top of each of these envelopes. Now name each of these files in order to label what is inside them. Use a hole puncher to punch holes 5 inches apart from each other on the left side of each envelope. Cut out 2 pieces of cereal box cardboard that are slightly larger than the envelopes. Then also punch 2 holes 5 inches apart on the left side of these too. Place the 2 pieces of cardboard on the outside of all of the envelopes ...connect them together with 2 binder rings. You now have a reference folder for whatever you are trying to organize.
Even More Crafts with Envelopes

Make Envelope Recipe Books - These are really useful to have. It is filled with envelopes. When you see a recipe that you really like from a magazine or elsewhere, you cut it out and put it in one of the envelopes. Works perfectly.

Paper Envelope Camels - Trace or paste this camel template on the folded edge of an envelope and then cut it out and fold it up. Now it should stand.

Bookworm Envelope Bookmarks - Use the corner of an envelope to make a really helpful bookworm bookmark.

Folded Envelope Elephants - Learn how you can make a cute little sitting envelope with a normal paper envelope.

April Fools Envelope Trick - Play an April Fools trick with an envelope and a paper clip.

Stand-Up Lions from Paper Envelopes - Paste this template onto the edge of an envelope and then cut him out and fold him up...then he will stand up ferociously.

Envelope Party Hats - Make your next party's hats with the corner of mailing envelopes. They are so easy to make.

Envelopes Coupon Folder - Make a booklet that is filled with envelopes to hold of your parents coupons in. Works wonderfully.

Paper Envelope Kangaroos - Use a normal mailing envelope and transform it into a stand-up kangaroo with the following craft idea.

Another April Fools Trick - This April Fools trick also includes an envelope and a rubber band.