Home > Arts and Crafts Projects for Kids > Animals Crafts> Birds Crafts > Crows & Ravens Crafts
CROW CRAFTS FOR KIDS: Ideas to make crows & ravens with easy arts and crafts activities for children, preschoolers, and teens
Crows and ravens are often confused with eachother because they are both black birds. Even people who are more aware of the differences between the two species can get confused. One of the ways to tell them apart is their voice and behavior differences. Ravens are larger than crows with thicker bills, and longer wedge-like tails. Ravens also have a deeper voice than crows. Those are some of the ways you can tell them apart. You might want to make some crow or raven crafts...if so here are a list of some that might make you happy.
How to Make Paper Crow or Raven Masks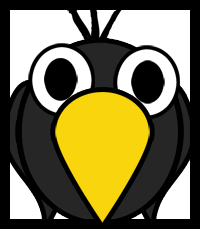 To make the above crow / raven mask, just print out the following crow mask template and follow directions included on that page.
How to Make Spool Crows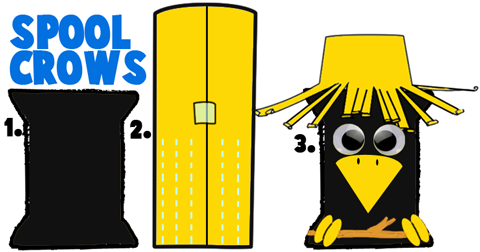 To make this crow, you will need to find an empty thread spool. Paint the spool black and then let dry completely. Next get some yellow paper and roll into tube that will fit tightly over spool. When found right width, tape on seam. Make a lot of long slits half way up the paper tube...as seen in picture #2 above. Bend the strips you just cut upwards so they turn into a hat, as seen in picture #3 above. Glue googly eyes on the crow. Either paint a yellow triangle beak or cut it out of crafts foam or card stock. Paint a branch at the bottom of the spool and then paint or glue yellow ovals on top of the branch for claws.
Even More Crow and Raven Crafts Below

How to Draw Crows and Ravens - Learn how to draw this cartoon raven.

Cardboard Tube Crow Craft for Youngsters - - As fall approaches we always seem to think about scarecrows--but what about the crows themselves? This cute little fellow is easy to make and cute to boot!

Chenille Crow Plant Stick / Bookmarker / Puppet - - This crow is soft and fuzzy and can be used for many purposes. He will be happy decorating a green plant, saving a page in your favorite book or can even be a cute puppet character to entertain the kids. This craft is easy for kids to make and caution is advised when using the glue gun.

Crow and Corn Beanbag Toss Game to Make- - Fall is the perfect time to be outside. The weather is cooler but still comfortable, so celebrate by making this whimsical game featuring crow and corn cob beanbags!

Halloween Party Place Cards Crafts Idea for Kids - - Have your guests "crowing" with fiendish delight with these clever place cards.

Hand and Footprint Crow Craft for Kids - - The FreeKidsCrafts team has had their hands busy this Halloween season. Take a look at this pesky Handprint Crow just looking for a scarecrow to perch on.

Handprint Crow or Raven Craft for Preschoolers and Toddlers - - Yet another craft that uses handprints (I love 'em!!). You can really make any animal with wings this way, but it's always nice to have a printable template on hand for the rest of the critter.

How to make a spooky origami raven for Halloween - - Okay, so a raven isn't the most auspicious thing to origami, but this delicate origami raven would be a wonderful and spooky craft to make for Halloween. You can place it on top of pumpkins or looking down jeeringly from windowsills.

How to Make Origami Crows Instructions - Crow origami model.

How to Make Origami Crows - Crow origami model.

Malificent's Spooky Ravens Activity Projects - - Of all her menacing cohorts, it is Malificent's pet raven Diablo that she most relies on. Cluching the magic glowing ball atop her staff -- or perching atop her shoulder with wings spread wide -- he is ever by her side. Unless of course he's circling far and wide, as ordered, in search of a certain princess the villainess' henchmen failed to find. Or stopping in to set a spooky mood in your family's haunt this Halloween!

Mini Thanksgiving Banner - - If you have been looking for some Thanksgiving crafts to make, then this mini Thanksgiving banner could be a great project for you. This banner is a charming way to give your home a touch of Thanksgiving. This little banner uses simple embroidery stitches that are very easy to do. It is also embellished with some cute leaf shaped buttons. This mini banner is the perfect size to hang on your door, in your kitchen, on your banister, or just about anywhere!

Paper Bag Crow or Raven Craft - - The raven is a great symbol for many bible stories. The crow is great for an Autumn theme.

Paper Crow With Movable Wings - - This paper crow is very easy for kids to craft within 30 minutes and it requires minimal materials to make him. He is afterwards fun to pretend he is flying because the wings can be moved in different positions. Punch a hole in the head to hang him if necessary. With other colors of paper, kids can create blue birds, robins, parrots, etc...

Paper Cup Crow Craft - - As autumn rolls in and farmers work on their harvest, the crows will be looking for free goodies. Make this cute little crow to celebrate fall!

Pom-Pom Crow - - This crow is all decked up in his straw hat and is excited for the upcoming fall harvest. He is already imagining how tasteful those delicious vegetables will be. The fringe yarn used to create this project is perfect for giving the crow a soft and fuzzy look.

Raven Costume - - Our stark yet stylized bird costume is easily put together with just a few simple embellishments attached to an ordinary black hoodie. The hooked beak is made of stiff black felt, as are the mischievous eyes. Feathery fringe sewn on the arms creates tufted wings; feathers arranged around the eyes give the raven a tousled look.

Raven Finger Puppet - - A simple craft to go with the story of Elijah and the Ravens.

Rock Crow Craft - - Follow these directions and make a tiny crow out of a rock. This would make a fun fridge magnet.

Trick or Tweet Birdhouse - - A wood birdhouse becomes a whimsical Halloween decoration with a bit of paint. This is great for an outdoor Halloween gesture. Acrylics and twinkles make this craft shine.

Wooden Crow and Pumpkin - - This crow can be found wandering around the pumpkin patch in the autumn season. This project is of average difficulty and is completed within an afternoon.