Home > Arts and Crafts Projects for Kids > Decoupaged Crafts for Kids
KIDS DECOUPAGE ARTS & CRAFTS IDEAS & PROJECTS: DECOUPAGE CRAFTS PROJECTS & ACTIVITIES FOR CHILDREN
Decoupage is a way of designing and decorating an item by pasting colorful paper cut-outs onto that item, as well as using painting effects. You can basically decoupage anything!
You can decoupage a cereal box to turn it into a beautiful paper holder for your magazines or school books. You can also decoupage a beautiful napkin on to a white jar. You can also decoupage a flower pot, boxes and baskets too.
Decoupaged Garbage Cans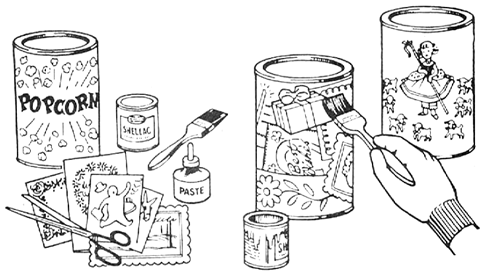 You will need an empty 5-gallon ice cream carton or large popcorn can, assorted greeting cards and magazines, paste, scissors, brush, and Mod Podge or shellac. If you use a popcorn can, do not remove the paper. Give each child an assortment of used birthday and get-well cards and magazines which have been cut apart. Use only the front unless there is an attractive picture inside. Children who are able to do their own cutting should be encouraged to do so. If you are using Mod Podge, brush it on the can, place the picture on the Mod Podge, and then brush over it with the Mod Podge. Put several more coats of Mod Podge on to coat it. If using Shellac, paste the pictures on the carton. When the wastebasket is finished and the paste dry, shellac it for him.
Even More Decoupage Crafts

Decoupaged Cereal Box School Papers Organizers - This is so easy to make. Just cut up a cereal box and glue on different cut out pictures...this one used Nintendo characters such as Donkey Kong, Mario, Luigi, Link, etc.

How to Decoupage Trays, Boxes, and Baskets - Find out the techniques of Decoupage.

Decoupaged Christmas Napkin Jugs - Decoupage a Xmas napkin onto a white jug to make a Christmas Jug.