Home > Arts and Crafts Projects for Kids > What to do with Doilies with Ideas & Crafts for Kids
DOILY CRAFTS FOR KIDS: Ideas for Arts & Crafts Activities with Instructions for Making Items with recycled doilies for children, teens, and preschoolers
You don't really see doilies around as much as you used to. They really remind me of old fashioned homes but they still sell them and they still exist. If your kids like to color, they will enjoy using their crayons, colored pencils, paints, markers and other art supplies to create pretty color combinations on doilies that have embossed designs. They can outline the flowers and leaves in different colors and make harmonizing borders. They can paste a pretty flower picture from a seed catalogue in the center or use these doilies to decorate a party table.
You will be surprised at how many creations can be made from lace doilies but we have collected tons of them from around the Internet (along with many of our own crafts)...they are listed below.
How to Make a Flower Corsage with a Doily and Crepe Paper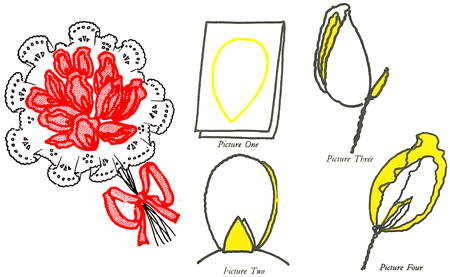 These flower corsages look so real that people will have to look twice to discover that they are made of paper. They are easy to make, too. You can make a whole bunch of them in a few minutes and then put them together into a corsage—which will make a very lovely gift to someone you like. Get some crepe paper. Pink, coral, lavender and white are sweet pea colors; so try to use these shade. To make one Hower, double over a small piece of crepe paper and cut it into the shape that Picture One shows. These paper petals should be about 2 1/2 inches long with the grain of the paper lengthwise.Unravel some picture wire into thin strands. Cut these strands into 8 inch lengths. Place the wire about one-third up from the pointed end of the paper petal, and fold the paper up over it, as Picture Two shows. Then twist the wire tightly so that it draws the petals together, as shown in Picture Three. The rest of this twisted wire then becomes the stem of your flower. Two small tails of crepe I-icture Two paper will he sticking out behind the large petals, as you see in Picture Three. Then turn the large petals over, so that the small ends which were sticking out will. now be under the large petals, as if under a hood. Picture Four shows you how your flower will now appear. To give your flowers a more natural look, ruffle the crepe paper just the tiniest hit, very close to the edge of the petals. After you make a cluster of these lovely Picture Three looking sweet peas (flowers), cover the wire with green crepe paper or ribbon. Then tie a bow on to your bouquet. If you push the stems of this bouquet through the center of a round paper-lace doily, you will have a delightfully pretty corsage. If you use different colors and construct your flowers with care; this corsage will really be pretty enough to wear on your Sunday dress, or even your party dress.
Another Doily Flowers Craft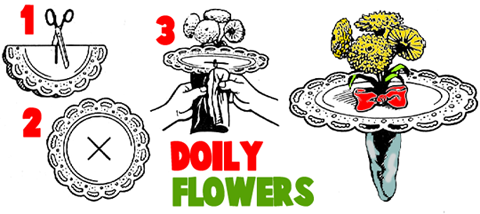 Here is another beautifuly doily flower craft that you can make. Firstly, you will need to take a doily and fold it in the center, as seen in (picture#1) above. Then, secondly, snip two 1/2 inch slits int he center, as seen in (picture#2)....like in an 'x' shape. Then Find a beautiful ribbon to tie a bunch of beautiful flowers up with. Next, slip it through the doily slits that you made in (picture #2). Wet a cotton square and wrap it around the flower stems, as seen in (picture #3). Now wrap tin foil around all the stems and cotton. Try to securite around the opening in the the doily slits. You can decorate this beautiful flower creation in any way that you please. This makes a nice gift for Grandma, Mom, or a special teacher.
Doily Wall Flower Hangers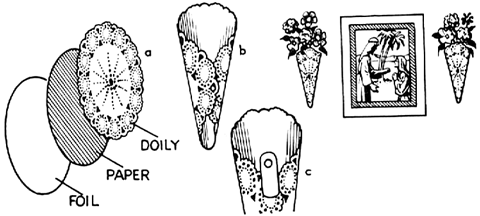 For this craft, you will need one 5" paper lace doily, a 5" circle cut from foil and one cut from colored construction paper, paste, 1 silver 1/2" paper fastener, and a stick-on hanger or a paper clip. Provide child with the doily and circles cut from paper and foil. Help him paste doily to colored paper and then paste the foil to the paper (paper circle should be between foil and doily as in sketch a). When dry, help child shape circle into cornucopia (sketch b). (Doily side should be out.) Fasten in place with paper fastener, making sure prongs are inside holder. Attach stick-on hanger to back of holder for hanging on wall (sketch c). If you don't have stick-on hanger, just tape on a paper clip. Artificial or dried flowers may be placed in holder, or stems of cut flowers may be wrapped in damp cotton and foil and placed in holder.
Doily Flower Baskets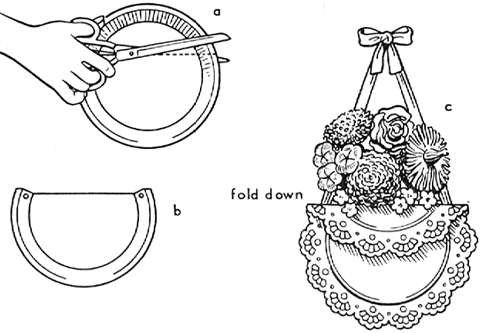 You will need the following small aluminum foil plate, lace paper doily, glue, scissors, 18" length of ribbon, and small assorted garden flowers. Cut away one-fourth of a small aluminum foil plate. Discard small piece. With scissors make a small hole on each side of plate, near cut edge (sketch b). (Adults must do this for children.) Fold paper doily down to correspond to cut edge of the foil plate as shown in sketch c. Glue folded doily securely to foil plate. When dry, tie a 9" length of ribbon through each hole in sides of foil. Tie other ends of ribbons in a bow to form basket handle. Place a few flowers in basket.
More Doily Crafts Below

Doily Baskets - Make a beautiful basket out of a doily, ribbon, and pipe cleaner.

Doily Angels - Make these adorable Christmas angels with a doily, ping pong ball, some paper, a cone-shaped drinking cup, and a few other items.

Easter Basket with Berry Container - If you like strawberries, blueberries, raspberries, and other berries than you probably have a lot of extra baskets hanging around. Why not make mini Easter baskets for your friends with them. Decorate it with foil or lace doily.

Make Doily Valentine's Day Baskets - Make a Doily Flower Basket...the flowers are hearts. The basket is made from a doily and a ribbon.

Paper Doily Heart Boxes - Make this nifty paper doily heart boxes to hold all of your Valentine's Day cards in as a keepsake or for your classroom party.