Home > Arts and Crafts Projects for Kids > Animals Crafts > Donkey Crafts Arts and Crafts Projects Ideas for your Kids
DONKEY CRAFTS FOR KIDS: Make your own donkey s / mules with easy arts and crafts instructions & activities & projects for children, teens, and preschoolers
Donkeys are pack animals that are known for being avery stubborn animal. Donkeys have been used for over 5,000 years for hauling heavy items long distances...as well as for other lifting and pulling reasons. It is a misconception that mules and donkeys are the same type of animal. In fact, mules are the offspring of a male donkey and a female horse. So they are only half of a donkey and the other half horse. A female donkey is called a jenny and a male donkey is called a jack. If you are interested in donkey or mule crafts, then this is the page for you. Have fun!
How to Make Standing Paper Model Donkeys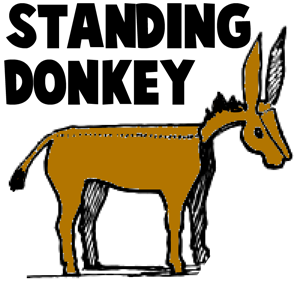 To make a stand-up paper donkey ... all you need is a printer, paper, and a scissor. First, choose a black and white or color donkey. Then cut out that donkey with your scissors. Then fold on the dotted lines. If you want to you can put googly eyes on the donkey for the eyes or you can draw them in with a marker. You can also color the mane and the hair on the tail black. You now have a stand alone donkey for your desk or dresser top.
Making Clothespin Donkeys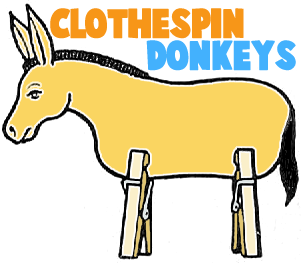 First of all, print out either the black and white pattern or the color pattern. Now cut out the donkey pattern. Clip on 2 clothespins and stand the donkey up on its legs.
Pull-Along Spool Donkeys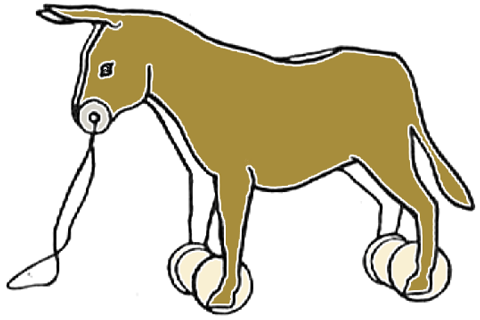 You will need a pencil, paper 8" x 10", 2 empty spools, 2 paper hole reinforcements, scissors, 1 long piece string, ruler, and paste. Here is the first donkey pattern to print out and here is the 2nd donkey pattern. Cut Out and fold the donkeys. Child will paste one empty spool between the donkey's front feet and another spool between the donkey's hind feet. Stick a gummed reinforcement on each side of the donkey's nose. Punch a hole in the center of the donkey's nose by running a pencil through the center of the reinforcements. Run string through nose of donkey and tie in knot so child may pull. donkey. Paste heads and tails together.
How to Make Standing Paper Mules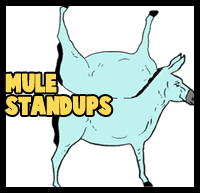 To make this paper standing mule, you just need to print out the black and white mule template or colorpaper mule template and then fold on the dotted line...it will stand up on its own.
How to Make Paper Donkey Masks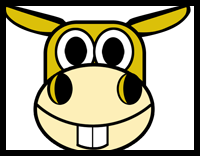 To make this paper donkey mask, you just need to print out the donkey mask template and then follow the directions on that printed page.
Learn How to Draw Cartoon Donkeys
Learn how to draw cartoon donkeys by picking one of the thumbnail pictures above to choose that lesson.

Clothespin Donkeys - Learn how to make these donkeys easily with some cardboard, yarn, and 3 clothespins.

Wooden Spoon Mules - Make this cool model donkey / mule out of ice cream wooden spoons (also some popsicles use these rounded popsicle sticks).
Even More Donkey Crafts Below

Donkey Paper Craft for Kids - Find out how children can make a donkey craft from paper.

Donkeys or Ducks Masks for Kids with Shoelaces - Use this free donkey template or any other animal tempate to create a cute mask.

Donkeys Paper Model Craft - This is a printable paper model of a donkey, cat, chick, dog and a box.

Donkey Toilet Paper Roll Crafts for Preschoolers and Toddlers - All you need to make a donkey is a toilet paper roll, paper, crayon and other materials.

How to Make a Donkey Head Costume - Follow these instructions to create a homemade donkey head costume.

How to Make a Donkey Pinatas Arts & Crafts Activity - This tutorial will show you how to make a colorful donkey piñata using inexpensive materials.

Paper Bag Donkey Crafts Projects - Make a donkey from a paper lunch bag, construction paper, crayons, template to print, scissors, and glue.